Portland Thorns have already claimed 1st place; Houston Dash Claim 2nd place; 3rd place up for grabs
October 15, 2020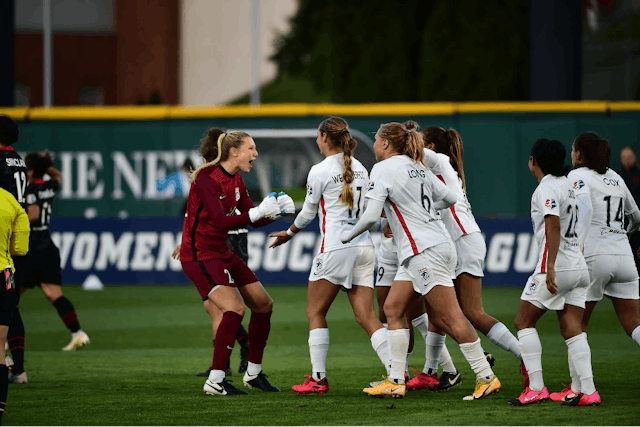 SOURCE: NWSL/TWITTER
The GIST: The NWSL Fall Series is heading into the final weekend of play...but a winner has already been crowned. We're totally wondering where the time (and the excitement from this summer's Challenge Cup) went.
Who's playing this weekend?: On Saturday, the Orlando Pride will take on the North Carolina Courage, followed by OL Reign vs. Utah Royals FC (FC stands for Football Club). With the Portland Thorns already locking up first place, there's not too much at stake in this final weekend.
Still, we'll have our eyes on the Courage and their hunt to overtake the Washington Spirit and claim third place in the final standings.
Tell me about Portland: Last weekend, the Portland Thorns defeated the Reign, tallying 10 total points throughout the Fall Series. The Thorns' first-place finish also means they're the inaugural Verizon Community Shield winners, earning a cool $25,000 grant for their chosen community partner. The Houston Dash, who already secured second place, will receive a $15,000 grant for their partner as well. So much good on and off the pitch!
Cool! You mentioned something about excitement?: Back in June, the NWSL Challenge Cup brought back live action to deprived sports fans, with the season opener streaming to an incredible 572,000 fans. The Challenge Cup Final drew a record-breaking 653,000 watchers. They put women's sports on TV and the people responded in historic fashion.
That's why this Fall Series seemed to fall a little short. Granted, these games did compete against the return of other major sports, but after seeing the incredible enthusiasm and support poured into the summer Challenge Cup, we were expecting more from the mostly lackluster fall action.

With a handful of USWNT players opting out of this year's NWSL action or heading over to Europe, younger players gained crucial experience to build on in coming seasons. The lessons learned this year will certainly shape the future of the league. Excited to see it continue to grow!