August 04, 2021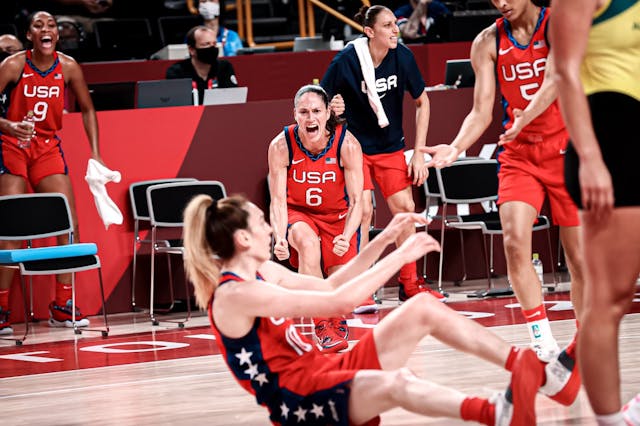 Source: Team USA Basketball/Twitter
🏀Basketball: After some close calls in the group stage, the U.S. women came to play in their first elimination game. Breanna Stewart helped to silence the doubters, scoring 23 points in Team USA's 79–55 rout of Australia.
The women will face Serbia in Friday's semifinals, but first the men have their semifinal vs. Australia, tomorrow at 12:15 a.m. Ball is life, baby.
🏃‍♀️Track & Field: It was a jam-packed morning on the track. Courtney Frerichs earned silver (her first Olympic medal) in the 3,000m steeplechase, while Allyson Felix ran a season-best time in the 400m semis to advance to Friday's final. Do we hear a 10th (!!!) Olympic medal?
🏐Volleyball: Despite missing stars Jordyn Poulter and Jordan Thompson due to injury, women's indoor volleyball coasted through the quarters with a straight sets win over the Dominican Republic. And there's even more good news: Poulter and Thompson are recovering well and could play in Friday's semifinal. Let's go.
⚾️Baseball: Hey Google, play "" by Jay-Z. Thanks to a two-run home run from Boston Red Sox prospect Triston Casas, Team USA baseball defeated the Dominican Republic 3–1 yesterday. The U.S. is now just one win away from the gold medal game, but they'll have to defeat South Korea in tomorrow's 6 a.m. ET semifinal first.