Thursday night will feature a matchup between Nick Foles and Tom Brady; Chicago Red Stars will finish NWSL Fall Series versus Sky Blue FC.
October 08, 2020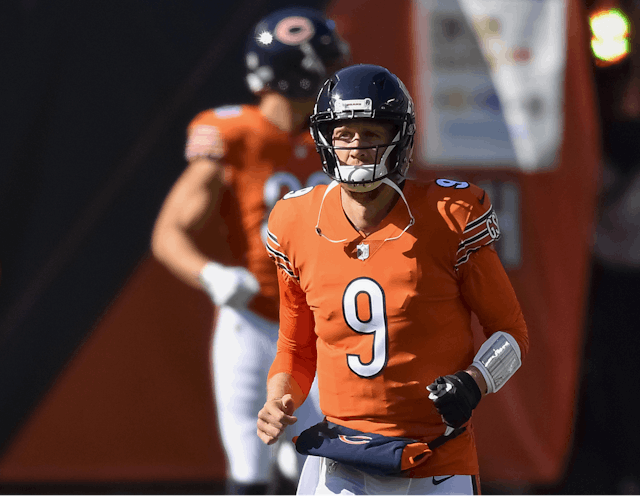 SOURCE: QUINN HARRIS/GETTY IMAGES
The GIST: The 3–1 Bears face the 3–1 Tampa Bay Buccaneers on Thursday Night Football, putting new starting quarterback (QB) Nick Foles to the test during primetime. Foles & Co. will be in tough against a Bucs defense that's v. strong against a running offense, so it will likely be up to Foles' arm and Allen Robinson II's hands in this one.
Don't count us out: The Bears will also look to take advantage of offensive holes in the Buccaneers' roster. Bucs QB Tom Brady, who already seems somewhat nervous around bears, will be without key offensive players, including receivers Chris Godwin and Justin Watson as well as running back LeSean McCoy.
With less pressure on the Bears' *cough* weaker *cough* defense, the game could be winnable if the offensive line can give Foles enough time to make some plays. We'll find out when the teams kickoff tonight at 8:20 p.m. ET.
Time to grind: Instead of selecting a hard-nosed sniper, the Blackhawks drafted forward Lukas Reichel No. 17 overall for his well-rounded abilities. Currently playing in Germany, Reichel is part of an impressive hockey family — his dad is in the German hockey Hall of Fame while his uncle, Robert Reichel, played in 830 NHL games. The 18-year-old might need a few more years before he takes the ice, but he has a lot of potential.
On the pitch: The Red Stars will close out their NWSL Fall Series this weekend against Sky Blue FC, a team they beat 4–1 earlier in the Series. The Red Stars have used the series to grow together as a team and help educate voters. You love to see it. Catch 'em on the pitch Saturday at 12:30 p.m. ET.