Bears seek Bell, White Sox shake up front office, Blackhawks make roster moves.
October 15, 2020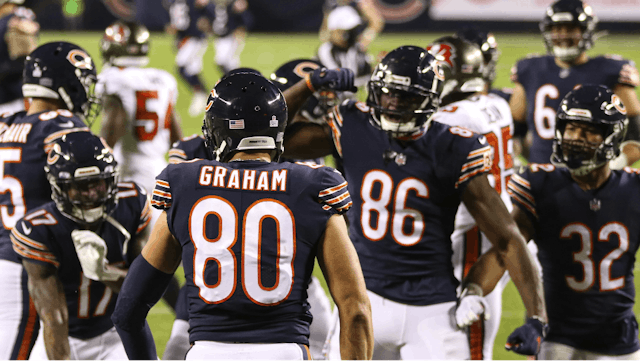 SOURCE: TE BATES/AP
The GIST: The Bears are considered a top landing spot for recently released NY Jets running back (RB) Le'Veon Bell. The White Sox are making front office moves. And the Blackhawks are shaking up their roster.
🏈It just keeps getting better: Apparently da Bears are interested in picking up RB Le'Veon Bell, who dramatically parted ways with the New York Jets on Tuesday. The Bears have money to blow with $10 million in cap space, and they desperately need a solid RB after Pro Bowler Tarik Cohen tore his ACL in Week 3. It seems like Bell might just be the perfect fit for the Monsters of the Midway.
⚾️Moving on and getting over: After four seasons with the team, the White Sox let manager Rick Renteria go on Monday. This move was a bit surprising, as the Sox were actually good this year, making the playoffs for the first time since 2008.
This isn't the first time a Chicago team has unexpectedly said goodbye to Renteria despite an improved record. The Cubs let him go after their 2014 season, just two years before winning the World Series. Hopefully for the Sox, that trend holds.
🏒Young blood: The Blackhawks recently bid adieu to two Stanley Cup champs — left winger Brandon Saad was traded to the Colorado Avalanche, and goaltender Corey Crawford signed with the New Jersey Devils after being released last week.