Yankees need a win against Tampa Bay Rays in ALDS; New York Rangers select Alexis Lafrenière in NHL draft; Sky Blue will close out NWSL Fall Series versus Chicago Red Stars.
October 08, 2020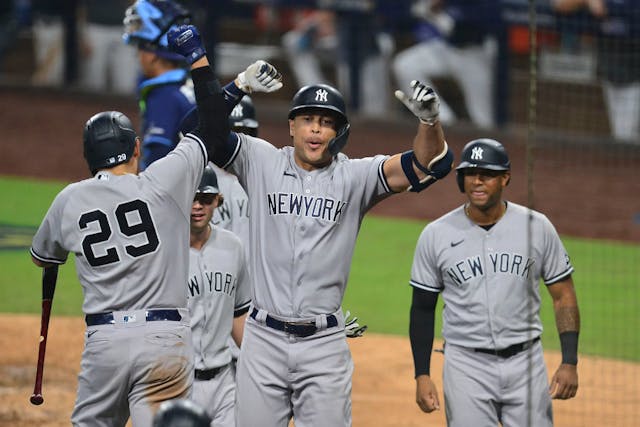 SOURCE: GARY A. VASQUEZ/USA TODAY SPORTS
The GIST: The Yankees must win or go home in the American League Division Series (ALDS), the Rangers scored big in the NHL draft, and Sky Blue FC is putting in the work on and off the field.
Go time: The Yankees are down 1-2 in their series against the Tampa Bay Rays after last night's 8–4 loss. Although Yanks pitchers have struggled to control the Rays' hot hitters, the Bronx Bombers have also been scoring. It's been so fun to watch Giancarlo Stanton smash the baseball, and last night's two-run dinger made him the first Yankee ever to homer in five consecutive postseason games. Someone's been eating their Wheaties.
Tonight's game is a must-win for New York. Time for Stanton and the squad to fire up their bats or risk hanging up their pinstripes.
Welcome to New York: The Rangers followed the trend of bringing the best-of-the-best to NYC this week when they selected left winger Alexis Lafrenière No. 1 overall in the NHL Draft on Tuesday. The two-time Canadian Hockey League Player of the Year brings scoring power and toughness, two key elements for the rebuilding Rangers. Oh and BTW, he's only 18 years old.
Reaching for the sky: Sky Blue FC will close out their NWSL Fall Series on Saturday at 12:30 p.m. ET against the Chicago Red Stars, a chance to bounce back after the club's loss to the Washington Spirit last weekend. And while you're patiently waiting for the game on Saturday, mark your calendars for Sky Blue forward Imani Dorsey's conversation with the President/CEO of the New Jersey Institute for Social Justice on Monday. See you there.