The GIST: While the Stars and Mavericks continue the grind on their respective playing surfaces, the Cowboys' rumor mill grinds on, fueled by lingering questions about quarterback (QB) Dak Prescott's future with the squad.
January 28, 2021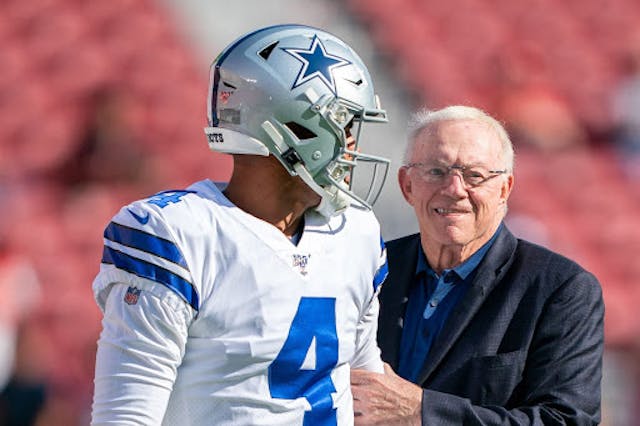 Source: Kyle Terada/USA TODAY Sports
🏈Cowboys: With so many this offseason, the longer the Cowboys wait to sign free agent Prescott — who suffered a season-ending ankle injury in Week 5 — the murkier his future with the team becomes.
Owner and general manager Jerry Jones claims Prescott has heading into contract negotiations, but we can't help but wonder if the Cowboys are considering parting ways with Dak in favor of one of the many available QBs.
🏒Stars: Yes, they've only played three games...but the late-start Stars are undefeated! They'll carry the momentum of Tuesday's over the Detroit Red Wings to tonight's 8:30 p.m. ET/7:30 p.m. CT rematch. Drama.
🏀Mavericks: Despite returning from COVID-19 protocols last night, the Mavs suffered a 116–104 loss to the Utah Jazz for their third straight L. Let's hope the Mavs can turn things around in round two vs. the Jazz tomorrow at 10 p.m. ET/9 p.m. CT.