Yankees advance past Cleveland, in large thanks to Bieber, Urshela, and Chapman
October 01, 2020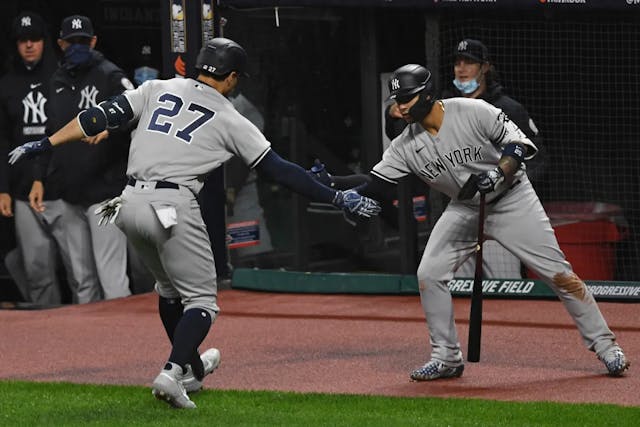 SOURCE: DAVID DERMER/AP PHOTO
The GIST: After sweeping Cleveland in their Wild Card series, the Yankees are waiting to start the next round of the MLB playoffs, while the Jets are prepping for Thursday Night Football.
Get it out, Gio: It's a good week to be a Yankees fan. On Tuesday, the boys of the Bronx lit up Cleveland's star pitcher, Shane Bieber (no relation to Justin), for a 12–3 win. Then, in Game 2 yesterday, the Yanks were down three runs in the fourth when third baseman Gio Urshela hit a grand slam to take the lead. The next five innings were an absolutely wild back-and-forth that had us biting our nails until the very last play, when Yankees closer Aroldis Chapman struck out Austin Hedges to end this insanely long, insanely exciting game.
The Yanks won 10–9, sweeping the series and moving on to the American League Division Series against the Tampa Bay Rays starting on Monday.
It's drama: After an abysmal first three games, all eyes are on Jets head coach Adam Gase heading into tonight's game against the Denver Broncos. Some are saying it's his last chance to prove that he deserves to coach more than four games this season. Also on watch is quarterback Sam Darnold, who has started off worse (like, ahem, his two pick-sixes on Sunday) this year than his not-so-great 2019 rookie season.
No matter Darnold's or Gase's fate, this game is a must-win for the Jets as the 0-3 Broncos will start their third-string quarterback, Brett Rypien. This battle of the losers is not one Gase can afford to win. Kickoff's at 8:20 p.m. ET.
On the other football pitch: On Saturday, Sky Blue FC will play the Washington Spirit in their next NWSL Fall Series match at 12:30 p.m. ET. Over in the MLS, the Red Bulls face Orlando City at 4:30 p.m. ET and NYC FC take on Inter Miami at 8 p.m. ET.