February 13, 2020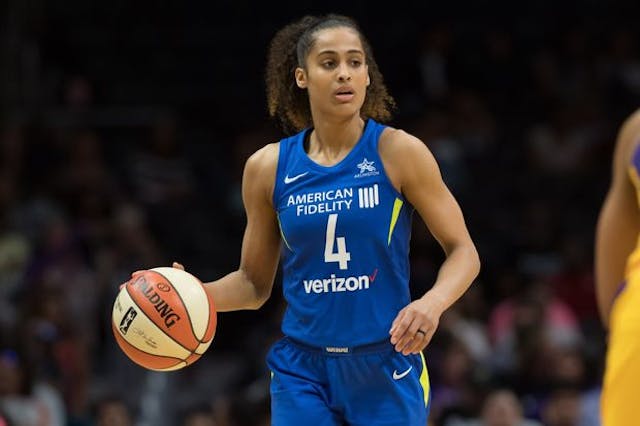 WNBA: We're only three days into the WNBA's (super undercovered) official free agency period and we already have a blockbuster move: former Dallas Wings superstar Skylar Diggins-Smith is heading to the Phoenix Mercury to link up with fellow heavy hitters Diana Taurasi and Brittney Griner, essentially creating the WNBA's first "Big Three" (it's giving us real early 2010s Miami Heat vibes).
Thanks to the newly signed CBA, teams have more cap space (aka total amount of money they're allowed to spend) and therefore can offer more enticing max contracts to the elite players. For example, the reigning champ Washington Mystics just extended their star Elena Delle Donne. Just a casual reminder of how opportunities for women can make a huge difference!
NHL: It was a scary scene in Anaheim on Tuesday night when St. Louis Blues defenceman Jay Bouwmeester suffered a cardiac episode while on the bench during a game against the Ducks. Bouwmeester's teammates noticed him collapse and called for the team's training and medical staff.
Thanks to the staff's quick action and an on-site defibrillator, the 17-year NHL veteran was stabilized and is said to be doing well in hospital. Let this be a lesson to us all: get CPR certified!
Gymnastics: A basketball analyst is in big trouble (and rightfully so) after making an inappropriate comment on-air. Barry Booker, who commentates on the SEC Network, said he'd like to spend Valentine's Day watching "scantily clad women," in reference to the gymnasts participating in this weekend's NCAA tournament.
Booker immediately — and we repeat, rightfully so — faced online backlash, with one former gymnast calling him out for sexualizing a sport that has already been the unwilling face of sexual abuse. Booker has since apologized, but he's now facing an internal investigation. It's 2020 and there's absolutely no room for sh!t like this.
NFL: Yesterday the NFL announced that Cleveland Browns pass rusher Myles Garrett will be reinstated from his indefinite suspension — the "indefinite" only lasting six games — for smacking Pittsburgh Steeler Mason Rudolph in the head with his own helmet during a game in November. The NFL's not exactly known for sticking to harsh punishments, so despite the controversial response, we're not surprised about this one.