May 10, 2021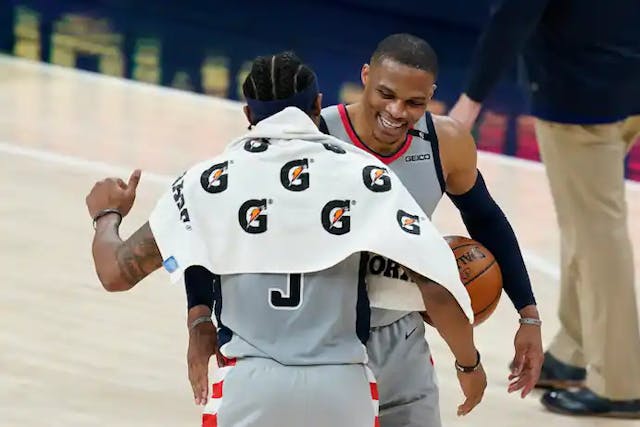 Source: Darron Cummings/AP
🏀Wizards: The Wizards, and more specifically Russell Westbrook, are too hot to handle. Westbrook was a man on a mission in the Wizards' overtime win over the Indiana Pacers on Saturday, helping the Wiz climb to ninth in the Eastern Conference with the and earning his 181st career to tie the NBA record. Bam.
🏒Capitals: The Caps picked up an overtime win of their own on Saturday, securing the in the East Division in the process. They close out the regular season tomorrow at 7 p.m. ET against the Boston Bruins, who could be the Caps' first-round playoff opponent.
🎓⚽️College soccer: Speaking of women's soccer, the unseeded UVA team knocked off No. 4 Texas Christian (TCU) 1–0 in yesterday's quarterfinals, with defender Lizzy Sieracki scoring her first goal of the season. Perfect timing.
As for the men, reigning champ Georgetown takes on Marshall in the quarterfinals today at 1 p.m. ET. Hoya — and we can't stress this enough — Saxa!