While Giants, Jets, Yankees disappoint, Sky Blue FC top Chicago Red Stars in last game until Spring 2021.
October 12, 2020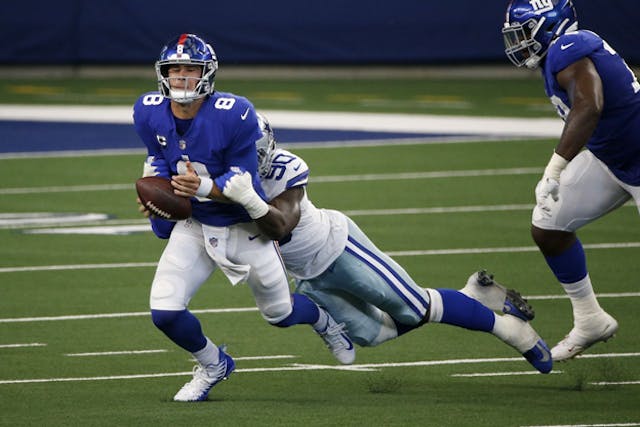 Source: Michael Ainsworth/AP Photo
The GIST: While the New York football teams' dumpster fire seasons continue to burn on, the Yankees enter the offseason disappointed from their playoff loss. On the pitch, Sky Blue FC closed out the NWSL Fall Series with a decisive win.
🏈Not close enough: It was another dark day to be a New York football fan as both the Giants and Jets dropped to 0-5. The Jets suffered a , this time at the hands of the Arizona Cardinals. The Gang Green struggled to score with quarterback (QB) filling in for injured , ultimately losing 10–30.
⚾️Moving on and getting over: ICYMI, the Yankees were by the Tampa Bay Rays in the American League Division Series (ALDS) on Friday after a game-winning homer from Los Rayos closed the series 3-2. This is the second straight year the Yanks ended their season in the ALDS. With lofty goals and the talent to back it up, the Bronx Bombers this year would be different.
⚽️On the pitch: Sky Blue FC closed out the NWSL Fall Series on Saturday with a 4–1 over the Chicago Red Stars, a team who the club by the same margin earlier in the series. You love to see it. Sky Blue now enters the offseason until preseason begins in spring 2021. The countdown is on.