May 20, 2021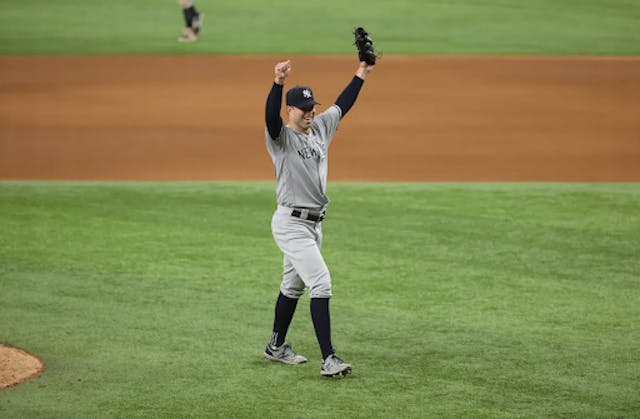 Source: Kevin Jairaj/USA TODAY Sports
⚾️Yankees: The Yankees beat the Texas Rangers 2–0 last night thanks to Corey Kluber's — the first thrown by a Yank since 1999 (!!!) and only the 12th in franchise history.
The sweetest part? The Rangers traded Kluber to the Yanks this offseason after an injury limited him to only one inning on the mound all of last season. Love a story.
🏒Islanders: After losing to the Pittsburgh Penguins on Tuesday, the best-of-seven series is all tied up at 1-1. The good news? Islander goalie Semyon Varlamov finally returned to the ice. The bad news? He was rusty...it took just three minutes for the Pens to . Sigh.
The Isles will be looking for redemption when they return to Nassau Coliseum for Game 3 tonight at 7 p.m. ET.
⚾️Mets: While the Mets' series with the Atlanta Braves ended with a 5–4 loss last night, the aforementioned damage to Pillar's face will last much longer — the caused multiple fractures in his nose. Thankfully, the said on Tuesday that and will be back doing what he loves soon enough.
🏀Liberty: The Liberty beat the Minnesota Lynx 86–75 on Tuesday, earning their third straight victory (which is already more than their total number of wins last season). Besides Ionescu's aforementioned record-breaking performance, our girl held it down again with 20 points. The Nets may have a Big Three, but the Libs got a damn good duo.