The GIST: While the Nationals deal with a rough start to their season, let's take a look at the playoff picture for the Wizards and Capitals.
April 19, 2021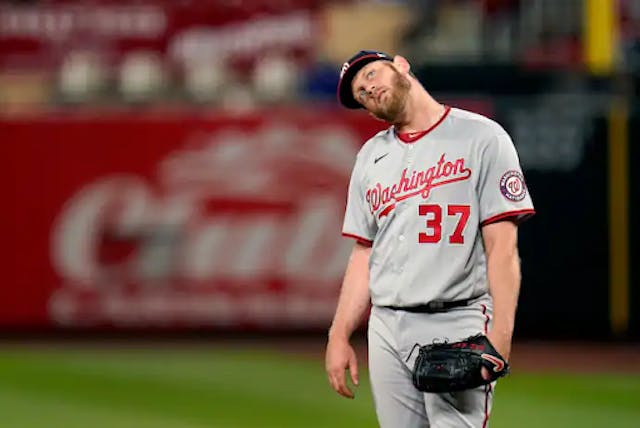 Source: Jeff Roberson/AP Photo
⚾️Nationals: After splitting their Thursday-Sunday series 2-2 with the Arizona Diamondbacks, the Nats now hold a 5-8 record. But more concerning than yesterday's 5–2 loss are the rapidly accumulating injuries. Star pitcher Stephen Strasburg — who was scheduled to start yesterday — was with shoulder inflammation. Eek.
That's not all. Relievers Wander Suero (strained oblique) and Luis Avilán (torn elbow ligament) are also dealing with health issues. And here we thought 2021 was going to be better.
🏀Wizards: The very streaky Wizards will look to extend their four-game winning streak tonight against the Oklahoma City Thunder — and every one of the Wiz's remaining 16 games counts. They're currently neck-in-neck with the Chicago Bulls and Toronto Raptors for 10th in the .
🏒Capitals: The Caps dropped a to the Boston Bruins yesterday. Despite the loss, the Caps are still atop the East Division with 10 regular season games remaining. If the started today, their first-round opponent would be the Bruins. Spicy.