The GIST: Hey, what's up, hello Seattle! Grab a cup of joe and catch up on a thrilling weekend for our teams.
December 21, 2020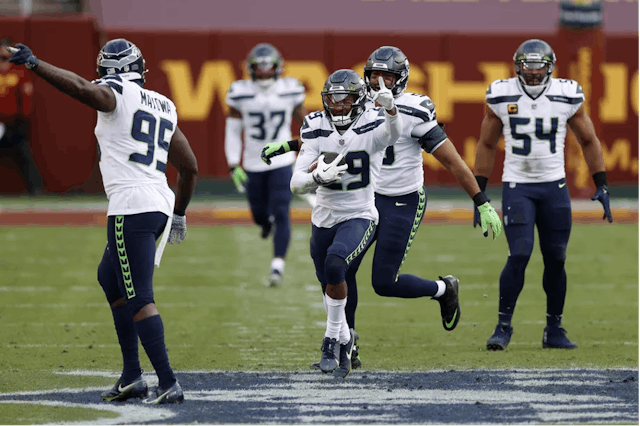 SOURCE: TIM NWACHUKWU/GETTY IMAGES
🏈The great escape: 12s, how are we feeling? The Seahawks had to keep things dramatic but held on for a 20–15 win over the WFT. The Seahawks' offense was cruising, the defense was humming...and then the team gave up two fourth-quarter TDs before getting called for a questionable 15-yard penalty in the game's waning minutes.
Thankfully, the Seahawks' defense came up big with back-to-back sacks and fended off the WFT's Hail Mary attempt. We're as relieved as safety Jamal Adams to escape with the victory.
With the harrowing win, the Hawks are playoff-bound. But more importantly, with the LA Rams' shocking loss to the no-longer-winless NY Jets yesterday, the Seahawks could clinch the NFC West title with a win next week. LFG!
🏀Like we never left: On the court, following a pause-in-action due to positive COVID-19 tests, No. 1 Gonzaga men's basketball returned to the hardwood on Saturday, downing No. 3 Iowa 99–88. Freshman Jalen Suggs, who could be a top pick in next year's NBA Draft, made seven three-pointers to finish with 27 points. Joel Ayayi was also spectacular, grabbing 18 (!!!) rebounds along with 11 points. Wow.
Catch the Zags tonight at 9 p.m. ET/6 p.m. PT against Northwestern State.
🏒Drop the puck: It's a date! The Kraken, our upcoming NHL team, expects to select their players on July 21st in next year's expansion draft. We can't wait to see them take the ice in Climate Pledge Arena.