Patriots quarterback Cam Newton is no longer on the COVID-19 reserve list; Bruins' Marchand, Pastrnak to miss start of NHL season.
October 15, 2020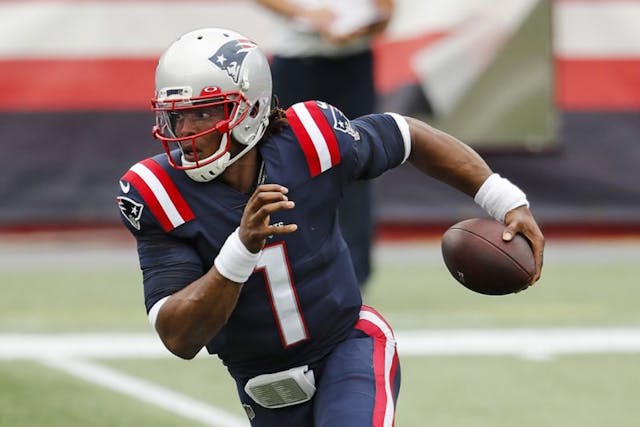 SOURCE: WINSLOW TOWNSON/AP PHOTO
The GIST: The Patriots are looking healthy again while recent surgeries could force key Bruins' players to miss the start of next season. As they say, health is wealth.
🏈He's baaack: Good news! Yesterday, quarterback (QB) Cam Newton was taken off the COVID-19 reserve list and put back on track to play against the Denver Broncos on Sunday at 1 p.m. ET. First off, it's great to see Newton healthy again. Secondly, it's amazing to hear that he'll likely return to orchestrate the offense on Sunday, because watching our backup QBs in action was an...experience.
Cornerback Stephon Gilmore is still on the COVID-19 reserve list, but he also could be back in time for Sunday's game. Fingers crossed!
🏒Stick taps: Uh oh, we may not see the Bruins' top line play together for a while. On Tuesday, the B's announced that stars Brad Marchand and David Pastrnak underwent successful off-season surgeries. The bad news? Both are expected to miss the start of the next NHL season, tentatively scheduled to start in January. *bites nails*
⚾️Hello, Green Monster: Our Red Sox might not be playing in October (still crying), but their ballpark will still be put to good use. This weekend, on October 17th and 18th, Fenway Park will serve as an early voting site. Get your vote on!