This Week from the Cowboys, Mavericks, Stars
February 01, 2021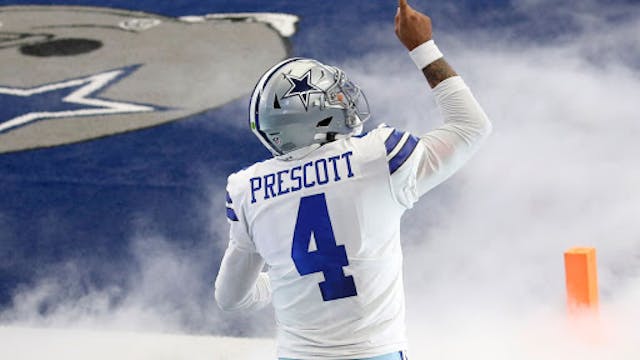 Source: Vernon Bryant/Dallas Morning News
🏈Cowboys: Another day, another to help us cope with our anxiety about the Cowboys' contract negotiations with QB Dak Prescott. With Prescott's fellow 2016 draftee Jared Goff traded to the Detroit Lions over the weekend, Dak is the from the 2016 NFL Draft who hasn't been benched, cut or traded. That's our quarterback!
And Tad Prescott, Dak's brother, is making sure Jerry Jones and the Cowboys take notice. Tad shared the above fact , writing "the guy who was never supposed to make it, is now the last one standing. Let that sink in," sending a that it's time for the 'Boys to commit to Dak. RT Tad, let's ink that paperwork.
🏀Mavericks: Luka Doncic continues to do Luka Doncic things, just shy of a through 20 games, but the Mavs still can't seem to find their stride. They'll look to halt a five-game losing streak with a win in tonight's 8:30 p.m. ET/7:30 p.m. CT matchup against the Phoenix Suns. Make it snappy, boys.
🏒Stars: After an undefeated start to the season, the Stars met their match in the Carolina Hurricanes, dropping both tilts with the 'Canes this weekend, including yesterday's shootout loss. It's not all bad news though: a point is a point and captain Jamie Benn returned to the ice after missing four games with a lower-body injury. Talk about a .