The GIST: Our local college volleyball teams are impressing us by masking up during match play. The Seahawks are saying so long, farewell to tight end Greg Olsen. And Gonzaga basketball doesn't know how to lose. Let's dive in.
January 25, 2021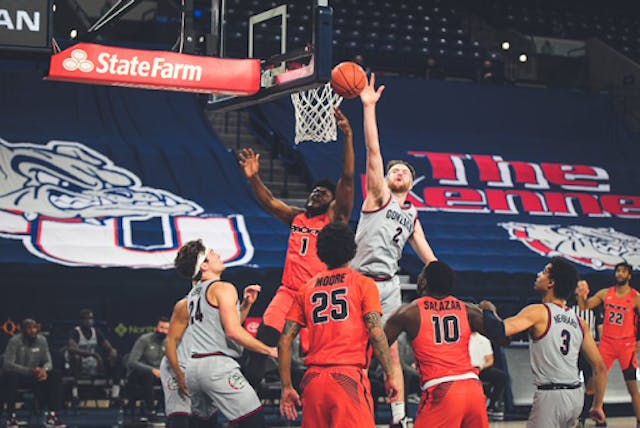 Source: Gonzaga Basketball/Twitter
🏈Seahawks: After 14 years in the NFL, Greg Olsen officially called it a career. He his retirement yesterday and will serve as a FOX Sports analyst next season. He only scored one touchdown while battling through injury in his lone season in Seattle, making that $7 million price tag kind of steep. Still, best of luck in the future.
🏀College basketball: No. 1 Gonzaga men's basketball kept their undefeated season going on Saturday, steamrolling over Pacific 95–49. (pronounced TIMMY) led the Zags with 22 points, with 11 of those coming in the Zags' 26–5 opening stretch. Casual.
Not to be outdone, the No. 20 Gonzaga women beat Portland 79–61 on Sunday. The didn't faze the Zags nor 2020 WCC Player of the Year Jill Townsend, who joined the 1,000 point club with . Keep draining 'em.