The GIST: Lots happening in the District. Danita Johnson broke barriers and Nationals' home run hero Howie Kendrick hung up his cleats. Meanwhile, the Washington Football Team's (WFT) off-field missteps took center stage, the Wizards opened their season and the Spirit made another trade. Phew.
December 25, 2020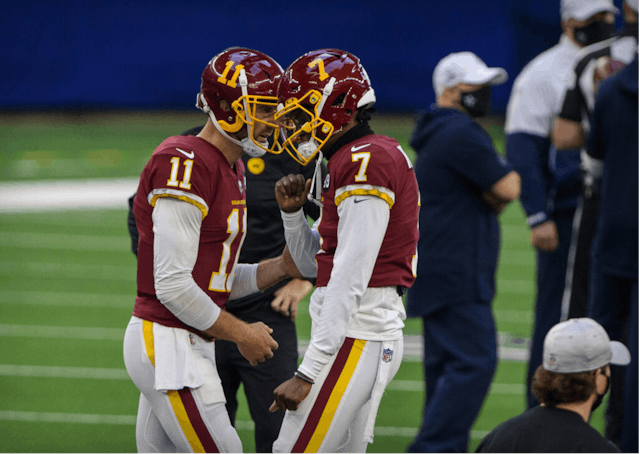 SOURCE: JEROME MIRON/USA TODAY
Note: Links include discussions of sexual assault and references to the former name of the WFT.
🏈WFT: Off-field news has overshadowed the WFT's playoff push. On Tuesday, the Washington Post uncovered that a female former employee was paid a settlement of $1.6 million in 2009 after she accused owner Dan Snyder of sexual misconduct. WFT's culture, under Snyder's stewardship, was already under NFL investigation after 40 women came forward earlier this year with accounts of sexual harassment. WTF, WFT — women deserve better.
In more SMH news, QB Dwayne Haskins was photographed maskless on social media. Haskins, who broke COVID-19 protocols previously this season, was fined and removed as team captain.

Haskins could start Sunday against the Carolina Panthers if injured QB Alex Smith remains unable to play. But Haskins' continued poor judgement means he's on his last chance in D.C.
🏀Wizards: Someone not on his last chance is Russell Westbrook. The Wizards lost to the Philadelphia 76ers yesterday, but Westbrook's Wiz debut was a success, racking up a triple-double by the end of the third quarter. He's something special.
⚽️Spirit: Speaking of new acquisitions, yesterday, the Spirit reportedly traded midfielder Meggie Dougherty Howard and two future draft picks to the Orlando Pride in return for U.S. women's national team defender Emily Sonnett. Is our NWSL team making spirits bright? Maybe.