The GIST: After last week's win, all eyes are on rookie QB Jalen Hurts for his second start with the Eagles.
December 18, 2020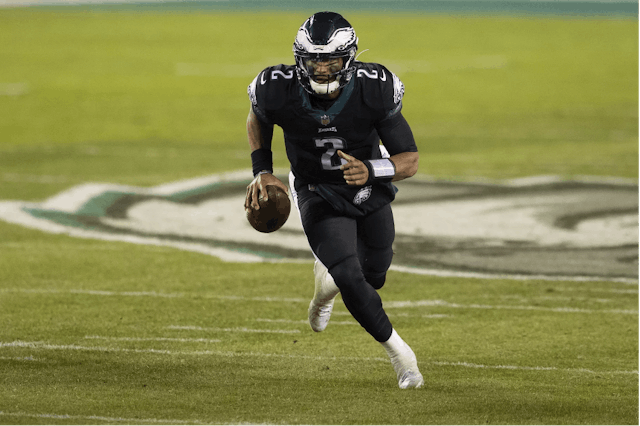 SOURCE: MITCHELL LEFF/GETTY IMAGES
🏈Eagles: On Sunday, Hurts was able to accomplish what QB Carson Wentz has been trying to do for four weeks now: win. A lot of that comes from Hurts' different style of play. He is a more "mobile" QB than Wentz, meaning he can move out of the pocket and still make great plays running or throwing, both of which he took full advantage of against the New Orleans Saints last week.
Defenders of Wentz, on the other hand, fault the offensive line for allowing too many sacks or forcing him to make quick decisions, leading to turnovers.
The Saints' defense didn't adjust well to Hurts, so it will be interesting to see how the Arizona Cardinals prepare to handle his mobility. Catch Hurts' speed on Sunday at 4 p.m. ET.
🏀Wildcats: After jumping out to a hot start against the Butler Bulldogs, the No. 7 Villanova Wildcats maintained their lead throughout the game thanks to 18 points apiece from forward Jeremiah Robinson-Earl and guard Collin Gillespie. The Wildcats beat the Bulldogs 85–66 to give 'Nova head coach Jay Wright his 600th (!!!) career win.
After an impressive 6-1 start to the season, the Wildcats were prepping to play the No. 17 Virginia Cavaliers on Saturday. But due to COVID-19 cases on UVA's squad, the matchup was postponed. Guess we'll have to enjoy the snow instead.