NYC Futbol Clubs Are Playoff Contenders
November 05, 2020
While Jets and Giants aren't likely playoff contenders, NYCFC and Red Bulls are more hopeful.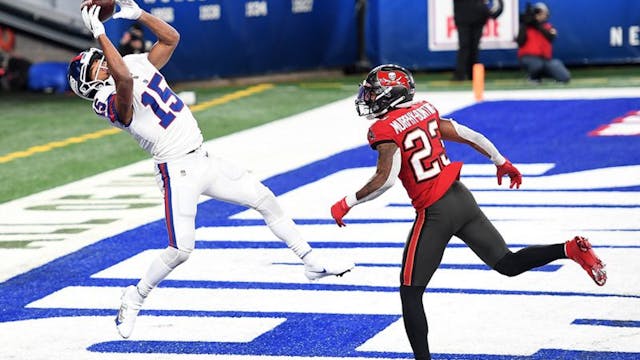 SOURCE: SARAH STIER/GETTY IMAGES
The GIST: We've been feeling that New York energy in the air lately, and here's hoping our teams feel it too. While the Jets have to wait until Monday to attempt to play football again, the Giants will face divisional foe Washington Football Team (WFT) on Sunday.
🏈Too late for second chances: The Giants are sitting dangerously close to the bottom of the league heading into their rematch against the WFT this weekend. The 1-7 Giants' only win was the 20–19 nailbiter against the WFT in Week 6, which they followed up with back-to-back losses.
Despite QB Daniel Jones' less-than-stellar performances lately, the Giants' past four games have been decided by a total of seven points (!!!), signaling that even minor improvements could seriously help the squad.
An offensive bright spot for the G-men — especially given wide receiver (WR) Golden Tate's drama — has been WR Darius Slayton. WFT hasn't done well at stopping a passing offense this season, so if Slayton can keep making the best of Jones' tosses, it could be time for the New York Football Giants to snag that elusive second win.
⚽️On the pitch: Both New York MLS teams are playoff contenders heading into the last weekend of the regular season. NYC FC (FC stands for Football Club) is comfortable at No. 5 in the Eastern Conference and will face the Chicago Fire on Sunday before the MLS Cup (aka playoffs) starts on November 20th. The Red Bulls are currently ranked No. 7 in the conference with their last match against top-ranked Toronto FC.
Assuming the Bulls' ranking doesn't fluctuate much, they'll be faced with a play-in game that will determine if they make the Cup. While the top eight teams in the Western Conference automatically make the tournament, the seventh through tenth seeds in Eastern Conference have to battle it out for the last two spots. Time to see just how deep that red can run.