The GIST: There's a lot going in Chicago this week, and we aren't even getting into the Bears retaining head coach Matt Nagy. We have the Blackhawks, the Bulls, and the Red Stars, so let's dive in!
January 14, 2021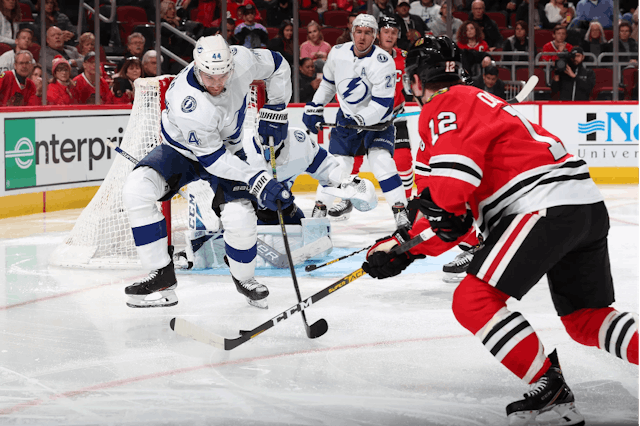 SOURCE: CHASE AGNELLO-DEAN/GETTY IMAGES
🏒NHL: Last night's opener against the Tampa Bay Lightning was kind of tough to watch. Tampa scored early and often; Chicago responded only once, when center Dylan Strome scored on a power play towards the end of the third period.
The Lightning won 5–1, but lucky for us, Chi-town will get another crack at the defending Stanley Cup champs when they face off again on Friday at 7 p.m. ET/6 p.m. CT.
🏀NBA: The Bulls are on an unplanned break after Tuesday's game against the Boston Celtics was postponed due to COVID-19-related issues. Chicago hasn't played since their tight 130–127 loss to the LA Clippers on Sunday, in which guard Zach LaVine scored a whopping 45 points. Dammit, Kawhi.
The Bulls' 4-7 record may not show it, but the team is gaining momentum behind LaVine and rookie Patrick Williams. Assuming no more postponements, Chicago will be back on the court against the Oklahoma City Thunder on Friday at 8 p.m. ET/7 p.m. CT.
⚽️NWSL: The Red Stars drafted Stanford stand-out Madison Haley with the seventh overall pick in last night's NWSL draft. The two-time National Champion and All-American grew up in Dallas, where her dad, Pro Football Hall of Famer Charles Haley, played for the Cowboys. We're pumped for her to bring her athleticism and heart to our city.