WFT bench Haskins, Capitals select Lapierre
October 08, 2020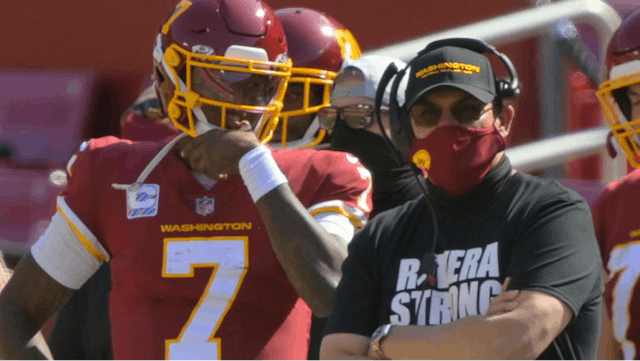 SOURCE: GETTY IMAGES
The GIST: We all need a break from reading about the COVID-19 outbreak at the Hill. Let's catch up with the Washington Football Team (WFT) and the Capitals instead.
Hasty with Haskins: Food for thought: Dwayne Haskins was one of 10 Black quarterbacks (QBs) to start Week 1, which was record breaking. This week, that number goes down with the WFT surprisingly benching Haskins after starting just four games. Look, we understand he didn't play spectacularly against the Baltimore Ravens last weekend, but growing pains are to be expected with a second-year QB, right?
Kyle Allen will start in Haskins' place on Sunday at 1 p.m. ET against the LA Rams. In an attempt to win in a weak NFC East, the WFT is banking on Allen's familiarity with the offensive system, having previously played for WFT head coach Ron Rivera back with the Carolina Panthers. However, with moves like these, we're not holding our breath.
Moving up: In Tuesday's virtual NHL Draft, the Capitals traded their No. 24 and No. 80 picks to the Calgary Flames to select Hendrix Lapierre at No. 22. Lapierre was considered a top-10-talent, however, after some head and neck injuries (scary) he slid down the draft. If he can stay healthy, Lapierre will be a boon for the Caps, and should fit right in as an Alex Ovechkin fan.