The GIST: Between power forward Joel Embiid's 45-point game and the Flyers' beatdown of the Pittsburgh Penguins, we're proud to be Philly fans this week (but none for you, Eagles).
January 14, 2021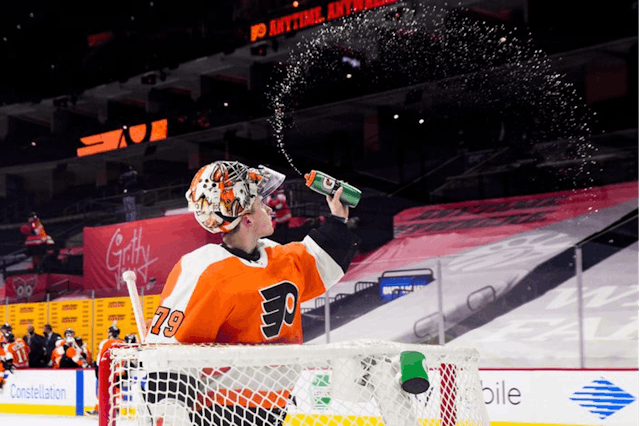 SOURCE: KATE FRESE/PHILLYVOICE
🏒Flyers: It was back-and-forth between the old-school rivals until the third period, when the Flyers scored three straight goals to beat the Pens 6–3. Each of Philly's goals was scored by a different player, including two youngsters: left winger Joel Farabee, who also had three assists, and center Nolan Patrick, who played his first game after missing last season due to a migraine disorder.
On the other end of the ice, Carter Hart was back in net, saving 31 of 34 shots. Can't talk right now, we're doing Flyers sh!t.
🏈Eagles: On Monday, the Eagles fired head coach Doug Pederson. He brought the franchise its first and only Super Bowl, but this year's 4-11-1 record put him in hot water with ownership. His release sparked mixed feelings from fans, many of whom say general manager Howie Roseman set Pederson up for failure with bad draft picks. That's some tea.
The Birds have already started interviewing candidates, including San Francisco 49ers defensive coordinator Robert Saleh, New England Patriots inside linebackers coach Jerod Mayo and Eagles assistant head coach/running backs coach Duce Staley. So far, we like what we see.