Four women's basketball college coaches getting paid? Yes, please.
October 22, 2020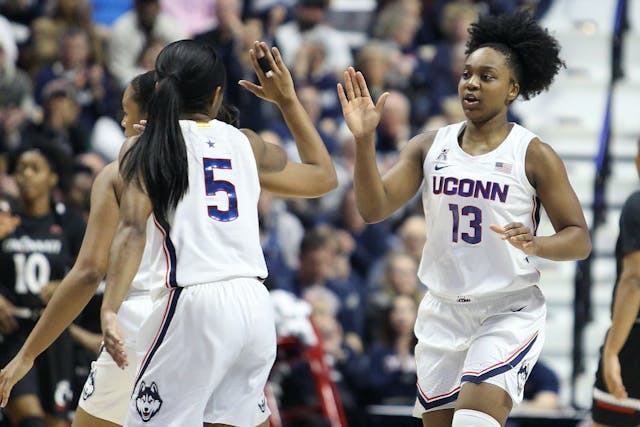 SOURCE: IAN BETHUNE/THE UCONN BLOG
The GIST: Four women's basketball coaches are finally getting paid, and Big Ten football teams are gearing up for their opening weekend of play. All good news from the NCAA...how refreshing!
Tell me about the women: The University of Connecticut (UConn) paid out nearly $250,000 to seven women after an investigation by the U.S. Labor Department found that they were underpaid. Four of these women were members of legendary coach Geno Auriemma's 2014 women's basketball coaching staff.
The 2013–14 UConn team, led by 2020 WNBA Finals MVP Breanna Stewart, went an incredible 40-0 before winning the 2014 NCAA Championship. Good on UConn for resolving the disparity! And because it's always a good time to say it loud and proud: Equal. Pay.
Hell yeah! And what's happening in the Big Ten?: After v. chaotic back and forth negotiations, Big Ten teams will finally begin their football seasons this weekend. The opening weekend matchup to watch is No. 5 Ohio State vs. Nebraska, featuring two of the coaches who most aggressively advocated for a return to play. Spicy.
Any other college sports news?: You bet. And it's even more good news: earlier this year, the NCAA Division 1 council designated Election Day (November 3rd) as a day off from games and practice to ensure student-athletes have time to participate in civic engagement.
Student-athletes across conferences and divisions are (unsurprisingly) stepping up to spearhead get-out-the-vote efforts on their respective campuses. We're less than two weeks (!!!) out from Election Day — follow their lead and make your voting plan here.