The GIST: The Giants are hoping to survive without quarterback (QB) Daniel Jones this week as they take on the Seattle Seahawks. On the court, the Nets gear up to start the season with lots of new faces while the WNBA's Liberty hope to add even more young talent.
December 03, 2020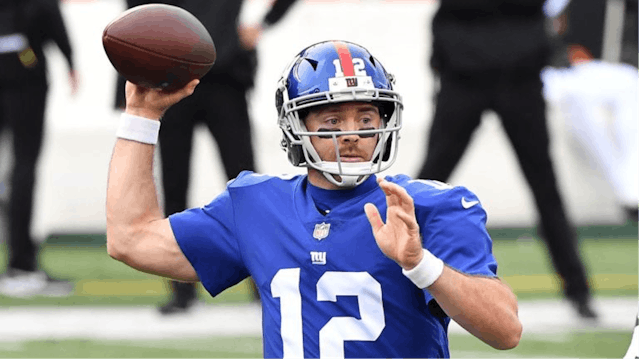 SOURCE: JAMIE SABAU/GETTY IMAGES
🏈On the field: The good? Jones' hamstring isn't seriously injured. The bad? No one is sure when he'll be ready to return. The ugly? The Giants will probably have to start backup QB Colt McCoy against the Seahawks on Sunday. Thirty-four-year-old McCoy hasn't started a game and won since 2014 and is 7-21 in the games he has started in over his 11-season career. Womp.
The Seahawks are a tough matchup, with or without Jones, but thankfully, the rest of the NFC East are also facing some tough opponents this week. Here's hoping that the Giants can hold onto their divisional lead while Jones gets some R&R.
🏀On the court: As the NBA gears up for their December 22nd start date, the Nets have a key player suiting up: Kevin Durant is finally healthy after his 18-month Achilles recovery and is "not holding back" this season. Joined by new head coach Steve Nash and recent pickup Landry Shamet, Durant and the Nets are primed to have a championship-caliber season.
Over in the W, the top draft picks will be determined by a lottery this week. The Liberty is most likely to snag the first pick, meaning they can grab another No. 1 to join last year's top pick, Sabrina Ionescu (pronounced YO-NESS-COO). Can you say, dream team?