The GIST: With the scary scene at the Capitol leading to last night's curfew, we echo Wizards' head coach Scott Brooks' sentiments. Please, stay safe D.C.
January 08, 2021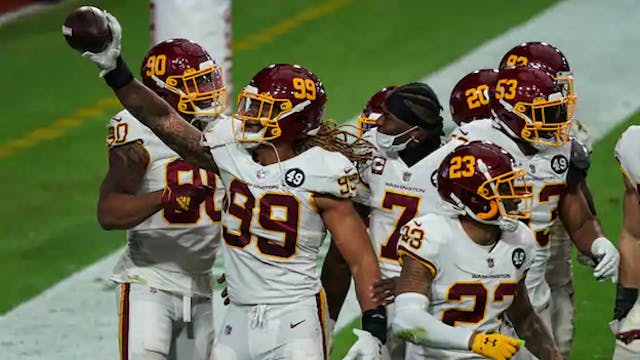 SOURCE: TONI L. SANDYS/THE WASHINGTON POST
🏀Wizards: The Wizards lifted our spirits with an entertaining contest, but were unable to overcome a 21-point deficit in a 141–136 loss to the Philadelphia 76ers. It was a remarkable showing from Bradley Beal, who scored 57 (!!!) points in three quarters before finishing with a career-high of 60 and tying the single-game franchise record. Go off.
🏈WFT: The WFT hopes to bring some light to the District with their playoff appearance, and better yet, an upset. The Tom Brady-led Bucs will be no easy task, but the game is scheduled to start after Tom's bedtime. Plus, Bucs wide receiver Mike Evans' health is questionable as he's listed as day-to-day with a knee injury.
And like WFT head coach Ron Rivera says, "we're playing with house money" here. Let's hit Brady and the Bucs with our best shot.
⚽️Spirit: Moving on to football of the soccer variety, the U.S. women's national team (USWNT) is back and the Spirit have four, count 'em, four, players on the camp roster. Kelley O' Hara and Emily Sonnett are Spirit newbies but USWNT mainstays, while Spirit captain Andi Sullivan and goalkeeper Aubrey Bledsoe also hope for some playing time against Colombia at the end of camp. Rep the District well.