The GIST: We interrupt our regularly scheduled Gritty programming to bring you an update on the slippin' Sixers and the fightin' Phils. Let's go!
April 22, 2021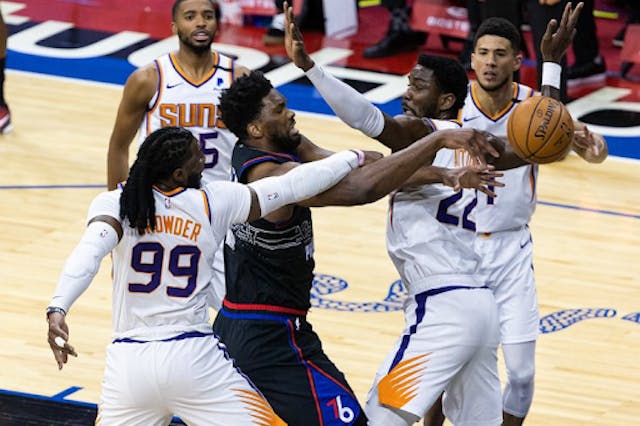 Source: Bill Streicher/USA Today Sports
🏀Sixers: The 76ers dropped a second straight game for the first time in a month, falling 116–113 to the Phoenix Suns last night. With Philly missing three key starters (Ben Simmons, Tobias Harris and Seth Curry), the game came down to Joel Embiid trading points with Suns guard Chris Paul.
But in the end, Phoenix's offense was just too much for the limited Sixers to overcome. Sigh.
⚾️Phillies: Down 0-2 in their series with the San Francisco Giants, the Phillies — after sitting through hours of a rain delay — found themselves tied in the bottom of the ninth inning yesterday. With one out, Philly's Andrew Knapp to left field to send Bryce Harper home. Get phreaky.
The Phillies avoided the sweep and took home the win, along with some renewed confidence in their offense. Love to see it.