The Birds making a last-minute trade with the Dallas Cowboys to secure the No. 10 overall draft pick
May 03, 2021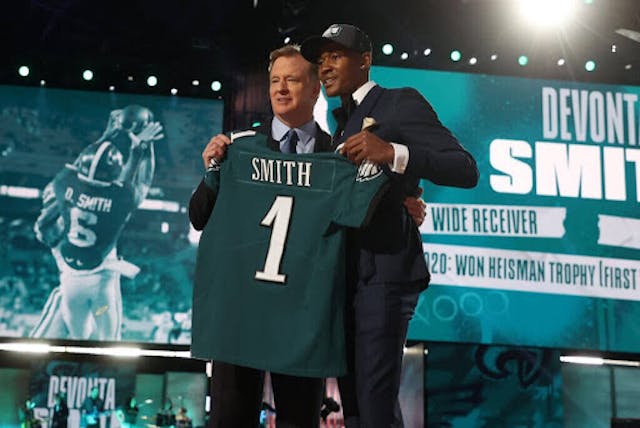 Source: The Athletic
🏈Eagles: We're feeling pretty optimistic this fine Monday morning after the Eagles' over the weekend. The best part? The Birds making a last-minute trade with the Dallas Cowboys to secure the No. 10 overall draft pick, which they used to select national champion and , wide receiver (WR) DeVonta Smith.
⚾️Phillies: The Phils closed out a spicy weekend series against the NY Mets last night, taking only one of the three games. Tensions were high throughout the series after Phillies pitcher José Alvarado talked some in the general direction of Met Dominic Smith in the first game.
Given Alvarado's, um, with the Mets, things escalated quickly: both benches cleared, and Alvarado was . Fierce competitiveness or toxic masculinity? We'll let you decide.
The 13-15 Phillies will have to drop the dramatics fast and get ready to face the Milwaukee Brewers tonight at 7:05 p.m. ET.
⚽️🎓Penn State soccer: Both the men's and women's teams went into this year's NCAA tournament unranked...and both have advanced to the third round. WE ARE so impressed.
The women pulled out a 2–0 upset against No. 16 Vanderbilt on Saturday. Fire up your margarita maker, because they're taking on undefeated and dominant No. 1 seed Florida State on Wednesday (Cinco de Mayo) at 3 p.m. ET.
After trouncing UMass 4–1 yesterday, the men are gearing up for their Thursday match vs. No. 8 Georgetown ().