The GIST: On the Chicago teams' never-ending emotional rollercoaster, yesterday QB Mitch Trubisky brought us to a serious high. This week, it will be the Bulls' turn to make us feel that type of way.
December 21, 2020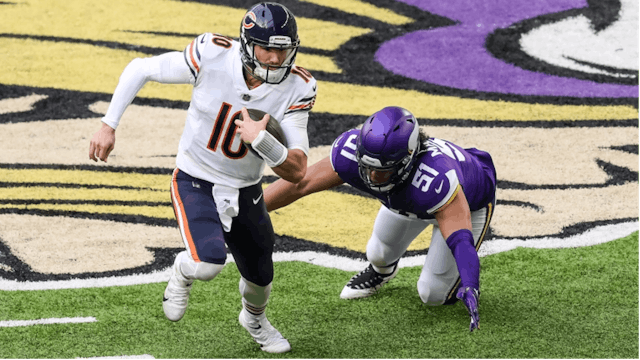 SOURCE: BRACE HEMMELGARN/USA TODAY SPORTS
🏈NFL: If there's one thing Bears fans know, it's that Trubisky rarely loses to the Minnesota Vikings. The Bears' 33–27 victory yesterday gave the QB his fifth win out of the seven starts against the Vikings.
In one of Chicago's best offensive games this season, Trubisky threw for 202 yards and a TD, WR Darnell Mooney had four receptions and a TD, and RB David Montgomery ran for over 100 yards with two TDs. Now that's a playoff-worthy offense.
🏀NBA: After a promising 3-1 preseason, the Bulls will host the Atlanta Hawks to begin their NBA regular season at 8 p.m. ET/7 p.m. CT on Wednesday. In the offseason, team owner Jerry Reinsdorf (of The Last Dance fame) brought in new executives and a new head coach, Billy Donovan, to turn the franchise around.
With most core players like Zach LaVine and Lauri Markkanen returning, the Bulls are banking on better coaching and player development to transform this squad into playoff contenders.
Notable new additions include rookie forward Patrick Williams — who's already made waves — and veteran guard Garrett Temple. After years of abysmal Bulls teams, we're excited about this season's potential.