No. 17 Rybakina and No. 1 Djokovic win respective women's and men's Wimbledon titles
July 11, 2022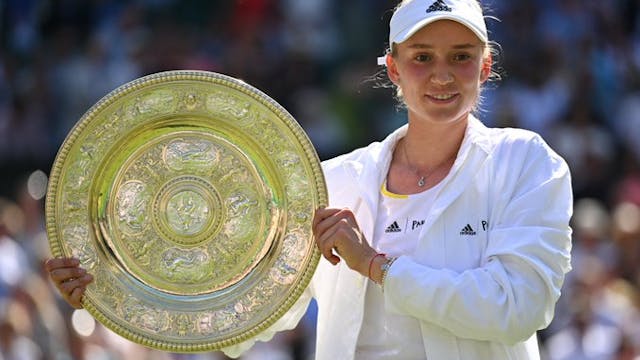 SOURCE: ESPN STATS & INFO/TWITTER
The GIST: Pack up the strawberries and cream and send your all-white 'fits to the dry cleaners (or the trash can), Wimbledon 2022 has officially come to a close…but not without some controversy.
Men's singles: Defending champ and top seed Novak Djokovic successfully defended his crown yesterday, topping Nick Kyrgios in four sets en route to his seventh Wimbledon and 21st overall Grand Slam trophy. The Big Three — Djokovic, Rafael Nadal and Roger Federer — have now won 62 (!!!) of the last 74 majors. Dominance.
The Joker's now one Grand Slam shy of Nadal's all-time men's record of 22. But it'll be a long shot to catch him this year — next month's U.S. Open (the final Slam of the season) still has a vaccine mandate in place.
Women's singles: On Saturday, No. 17–seed Elena Rybakina defeated No. 3 Ons Jabeur in three sets to secure her first-ever Grand Slam title. The matchup was doubly history-making: Rybakina is the first player representing Kazakhstan to win a major trophy, while Jabeur is the first Tunisian and Arab woman to reach the final. Shivers.
Off the court: In addition to the royal family appearance, global politics found its way to Centre Court over the weekend. First, despite Rybakina changing her nationality from Russian to Kazakhstani in 2018 to secure better funding for her tennis career, Russia — whose players were banned from Wimbledon this year — tried to claim Rybakina's win as their own. Classic.