The GIST: The WFT couldn't complete the comeback against the Seattle Seahawks yesterday, but the Wizards and Mystics can put the pep back in your step.
December 21, 2020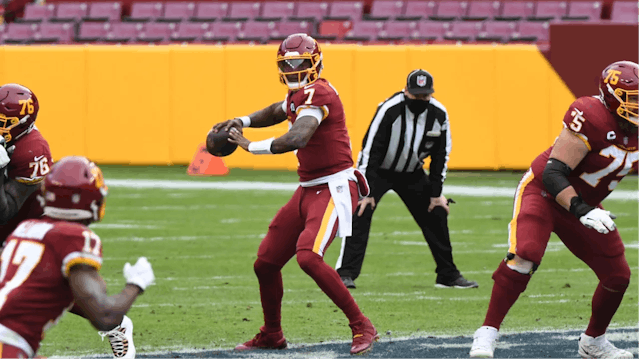 SOURCE: AMANDA BOWEN/NFL
🏈Fought 'til the very end: The WFT kept the Seahawks on their toes with a furious fourth-quarter push, but the Burgundy and Gold were unable to overcome their early deficit. QB Dwayne Haskins, who made his first start since being benched in Week 5, got mad to lead the rally. But back-to-back sacks and a failed Hail Mary attempt later, that's all she wrote. Tough one.
Although the loss snapped the WFT's four-game winning streak, they still hold the top spot in the NFC East. Major thanks to the Cleveland Browns for beating the NY Giants.
🏀It's go time: The NBA is back, baby, with the Wizards playing the Philadelphia 76ers on Wednesday at 7 p.m. ET. The Wiz missed the playoffs the last two seasons, but that should change with superstar Russell Westbrook joining forces with Bradley Beal.
As for the young guys, rookie Deni Avdija could make the starting lineup on Wednesday after an impressive preseason. Second-year forward Rui Hachimura, however, might miss the season opener entirely with conjunctivitis. Poor guy.
Oi oi oi: It's the WNBA offseason, but our Mystics didn't stop winning. Overseas in Australia, Leilani Mitchell was named the Grand Final MVP as her Southside Flyers won the WNBL championship. Can you imagine watching Leilani's sharpshooting at a women's sports bar? Make it reality.