The GIST: With COVID-19 reshuffling the college sports calendar, we have volleyball and football championship news today, along with a perfect game in softball. You hear that, Hannah?
April 26, 2021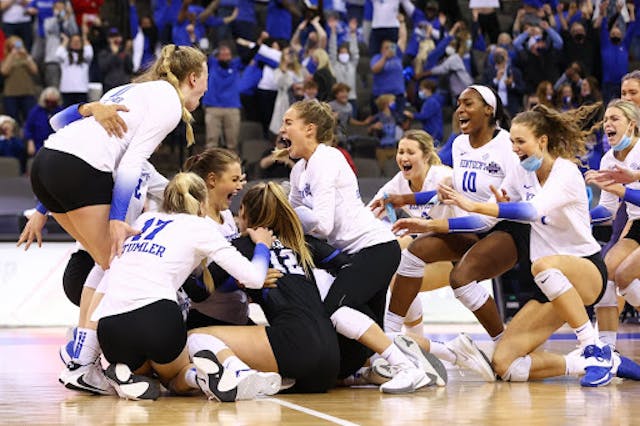 Source: Kentucky Volleyball/Twitter
🏐Volleyball: No. 2 Kentucky's historic season ended with their first-ever volleyball national title, as the Wildcats defeated No. 4 Texas in a four-set thriller on Saturday night. Fresh off her honors, senior Madison Lilley posted a career-high 19 digs and was named the tournament's most outstanding player. ?!
🏈Football: Most Football Championship Subdivision () schools pushed their seasons to the spring due to COVID-19, so there's more football for us with their championships now underway.
Highlights from Saturday's first-round action include James Madison University (JMU) Jawon Hamilton's . Talk about not throwing away your shot.
🥎Softball: There was some herstory on the diamond this weekend. On Friday, Saint Anselm senior pitcher Morgan Perry tossed a in a 3–0 win over St. Michael's College. The next day? Perry tossed a (!!!), striking out 10 batters en route to the first perfect game in program history and her record-breaking 79th career win. What, like it's hard?