We don't have high hopes for the Washington Football Team this weekend, but the Washington Spirit will finish their Fall Series and D.C. United will face Atlanta United.
October 01, 2020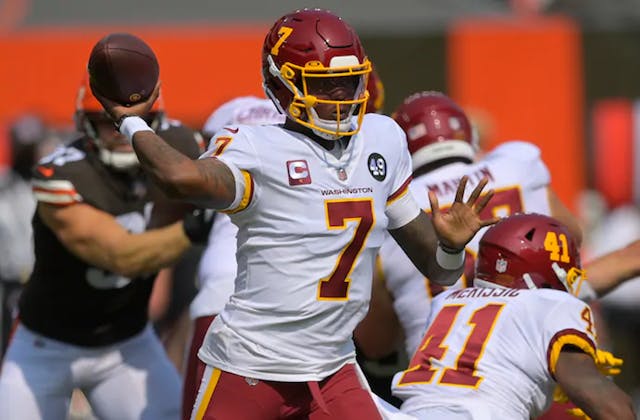 SOURCE: JOHN MCDONNELL/THE WASHINGTON POST
The GIST: Wow, it's October already. You know what else is mind-boggling? The Washington Football Team (WFT) having a 1-2 record and somehow tying for first in the NFC (National Football Conference) East.
Say what?: Even though the NFC East is pretty weak, our first place tie is a bit of a surprise. Unfortunately, that's it for the WFT's good news. Defensive tackle Matt Ioannidis (pronounced EYE-UHN-NYE-DIS) is out for the season with a torn bicep after leaving last Sunday's game, and rookie defensive end Chase Young isn't expected to play this week due to a groin injury. Ouch.
So, is a win in the cards this weekend?: Yeeeah, not likely. The WFT play the Baltimore Ravens in the Battle of the Beltway on Sunday at 1 p.m. ET. While the Ravens are coming off a hard loss to the defending Super Bowl champion Kansas City Chiefs, we expect Ravens quarterback (QB) and reigning MVP Lamar Jackson to probably bounce back from his career-worst 97 passing yards. Look out.
Is there any good news?: Well...depends. WFT head coach Ron Rivera acknowledged that there's a "cutoff point" for how long he'll keep starting second-year QB Dwayne Haskins, who struggled last week. Maybe comeback kid Alex Smith will get a look? Only time will tell.
Anything else?: Yes, actually. Prep for Sunday football with Saturday football (of the soccer variety). The Spirit conclude their NWSL Fall Series against Sky Blue FC at 12:30 p.m. ET, while D.C. United take on Atlanta United at 7 p.m. ET. Get your footy fix!