Just when it looked like the Patriots would be able to pull off a win, the Buffalo Bills handed New England their 5th loss.
November 02, 2020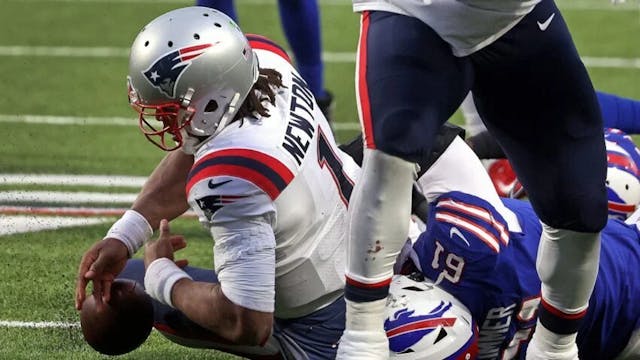 SOURCE: BARRY CHIN/THE BOSTON GLOBE
The GIST: Yesterday, there was a glimmer of hope for the shorthanded Patriots to pull off the win against the Buffalo Bills. Instead, the Pats fell further into the abyss with a 2-5 record and a fourth-straight loss. Does 2020 feel like The Twilight Zone or is it just us?
🏈What happened?: Superman looked like he would power the Pats to victory, but alas, with 31 seconds left, QB Cam Newton fumbled the ball on a potential game-winning drive, in an otherwise much-improved showing.The worst part? With this loss, the Pats are basically out of playoff contention. 2020 doing 2020 things.
Sigh. You mentioned shorthanded?: The Pats were operating without cornerback (CB) Stephon Gilmore and wide receivers (WRs) Julian Edelman and N'Keal Harry, meaning other players had to step up. CB J.C. Jackson grabbed an interception, while WR Jakobi Meyers and running back Damien Harris provided big contributions on offense. So all things considered, the team fared okay against the AFC East-leading Bills.
⚽️Any good news?: Well, not Pats-related. But across the pond, self-proclaimed "amateur Masshole" Sam Mewis (of the quick-witted humor we mentioned earlier) scored a beautiful goal to help her Manchester City squad win the Vitality Women's FA Cup. The "Tower of Power" strikes heads again.