The GIST: No (real) football, no problem. There's plenty of ranked women's basketball (WBB) action and season opening volleyball play on tap to keep us busy while we wait another week for Amanda Gorman's performance at the big game.
January 28, 2021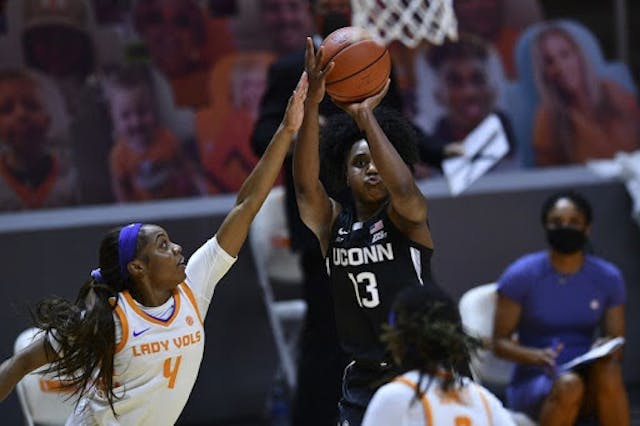 Source: Saul Young/AP Photo
🏀WBB: With just seven weeks until March Madness selection day, there's a lot riding on the ranked matchups over the next few days. First up, No. 3 UConn vs. No. 19 Arkansas, tonight at 6 p.m. ET on ESPN2.
Arkansas is coming off a nail-biter 75–73 loss to SEC foe No. 22 Georgia on Monday, while the UConn Huskies are hoping freshman phenom Paige "" Bueckers (pronounced BECKERS) will return from an ankle injury. Fingers crossed.
Sunday: Close out your weekend and fill that football void with even more ranked play on Sunday. UConn will face another challenge in No. 17 DePaul at 1 p.m. ET, on Fox. Then No. 22 Georgia takes on No. 8 Texas A&M at 5 p.m. ET. How spoiled are we?
🏐Volleyball: Similar to college football, the all took to scheduling during the pandemic. Although some teams played a limited schedule in the fall, the Pac-12 and Big 12 got the party started last weekend, while the SEC opens up play this Sunday.
The season will culminate with the NCAA Tournament — originally scheduled for December — on April 22–24 in Omaha, Nebraska. And there's another change: the standard 64-team field was reduced to 48. Talk about pressure.