August 30, 2021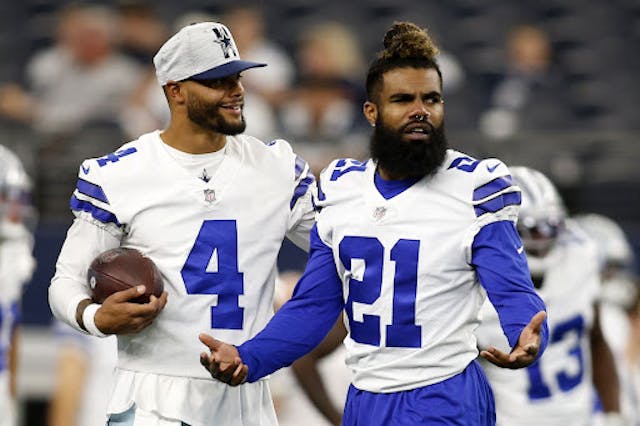 Source: Tim Heitman/USA TODAY Sports
🏈Cowboys: The bad news? With yesterday's 34–14 loss to the Jacksonville Jaguars, Dallas failed to win a single game this preseason. The good news? The that happened, the 'Boys went on to win the NFC East and advance to the Divisional Round of the NFL playoffs. Now that's a (blue and) silver lining.
🏀Wings: With starters Allisha Gray and Satou Sabally still out due to injury, the Wings split their two-game road series with the Washington Mystics, picking up a clutch 82–77 win on Thursday before losing a 76–75 heartbreaker on Saturday.
The seventh-place Wings have just six regular season games remaining and, lucky for us, the next four will be played at home, beginning with a matchup vs. the Atlanta Dream Thursday at 8 p.m. ET/7 p.m. CT. In it to win it.
⚾️Rangers: The Rangers managed to avoid the series sweep and salvage some North Texas pride with yesterday's big 13–2 win over the Houston Astros, but the 'Stros still secured the for a fifth straight season.
With the Rangers' playoff hopes , here's something fun to look forward to: pitcher A.J. Alexy will make his MLB debut tomorrow when Texas faces the Colorado Rockies at 8:05 p.m. ET/7:05 p.m. CT. Welcome to the show.