The GIST: The Mavericks have struggled to find their footing, posting a 3-4 record through the first two weeks of play. But they might be in for some fairy tale magic soon thanks to Kristaps "The Unicorn" Porzingis' imminent return.
January 08, 2021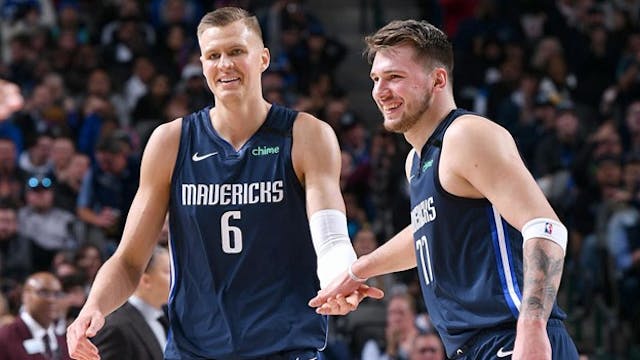 SOURCE: GLENN JAMES/NBAE VIA GETTY IMAGES
🏀Mavericks: The Mavs' slow start can be attributed to a tough few games for star guard Luka Doncic. But the MVP favorite finally showed up in a 113–100 win over the Houston Rockets on Monday, recording his first triple-double of the season. Welcome back!
And now, Doncic and co. can look forward to the return of Porzingis. The powerful center — who suffered a season-ending knee injury in the bubble — won't play tonight when the Mavs take on the Denver Nuggets at 10 p.m. ET.
But coach Rick Carlisle expects him to be back in action within the next week to week-and-a-half. Can't wait.
🏈Cowboys: The Cowboys might have been eliminated from the playoffs over the weekend, but that didn't stop Cowboys owner Jerry Jones from boasting about his team's "world record" attendance at AT&T Stadium this season...in the middle of a pandemic. Yeah, we'd much rather be bragging about a playoff run right now.