The GIST: Big ups to Kings' captain Anže Kopitar for earning his 1,000th career NHL point last night. The excitement keeps building with not one, not two, but three LA-area rivalries on deck this week.
May 06, 2021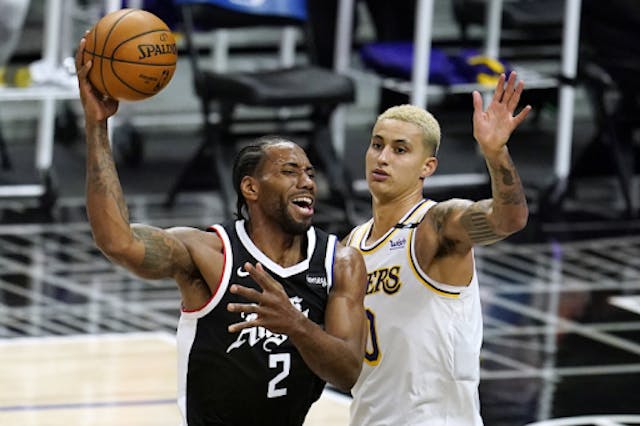 Source: Marcio Jose Sanchez/Associated Press
🏀NBA: The Battle of LA between the Clippers and Lakers tips off tonight at 10 p.m. ET/7 p.m. PT. And the clash between the Staples Center hallmates might be a : the Clips will likely be the third or fourth seed in the Western Conference, while the Lakers hope to secure fifth or sixth.
For both sides, health is wealth. The energetic Patrick Beverley, who missed 12 games with a fractured hand, to help the Clips end a three-game skid.
⚾️MLB: Over at the Big A, the 13-16 Angels will host the 17-15 Dodgers in a starting tomorrow at 9:38 p.m. ET/6:38 p.m. PT. It's early in the season, but despite the and big , neither team's been faring quite so hot lately.
⚽️MLS: On the pitch, the Galaxy and LAFC will kick off the season's first edition of El Trafíco on Saturday at 8 p.m. ET/5 p.m. PT. A match featuring Galaxy's electric and LAFC's Diego Rossi? Give us all the goals.