The GIST: Even though the Knicks and Nets played each other last night, the game was the last thing on New York basketball fans' minds.
January 14, 2021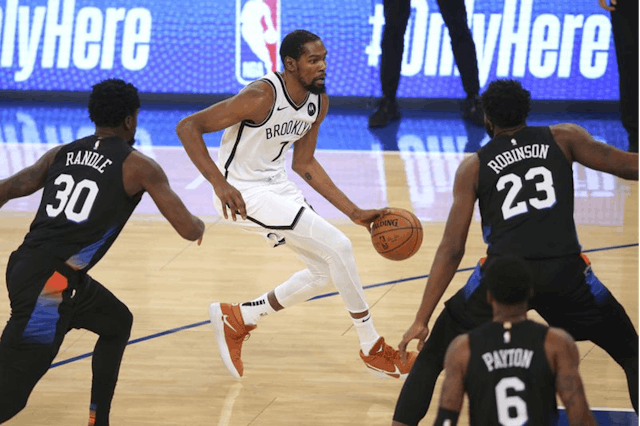 SOURCE: BRAD PENNER/AP PHOTO
🏀Nets: Let's get right to it. In yesterday's huge four-team trade, the Nets walked away with James Harden (and his drama). To get him, they gave up guard Caris LeVert, center Jarrett Allen, forward Taurean Prince, and forward Rodions Kurucs, plus a litany of draft picks. Throw that investment in your 401K.
Having Harden, Durant, and Irving on the floor would give the Nets an unbelievably dominant offense...assuming Irving returns, the Nets are "good enough" for Harden's attitude, and Durant can share the spotlight.
Knicks: While the Nets are bringing some serious Samantha energy, the Knicks seem to be channeling Charlotte's mild manners. Julius Randle led the team with 40 points; RJ Barrett scored 20, showing off his jumper to Steve Nash, who happens to be his godfather.
But it wasn't enough to best Brooklyn's squad. The Nets won this battle of the boroughs 116–109.
🏒NHL: If you can't get enough New York-on-New York action, the Rangers and the Islanders open the season against each other tonight at 7 p.m. ET. Time to see what all this Alexis Lafrenière hype is about.