The Mavs will have two rest days before they look to right the ship Wednesday
April 19, 2021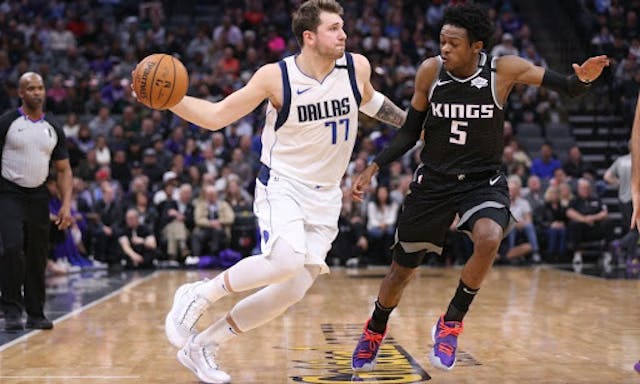 Source: USATSI
🏀Mavericks: The up-and-down Mavs couldn't bounce back from Friday's 117–109 loss to the NY Knicks, falling 121–107 to the Sacramento Kings last night. Luka Doncic came alive in the second half, leading all scorers with 37 points, but it wasn't enough to secure the W.
The Mavs will have two rest days before they look to right the ship Wednesday at 8:30 p.m. ET/7:30 p.m. CT against the Eastern Conference's last-place Detroit Pistons. Time for some more Luka magic.
🏀Wings: The Wings () welcomed some new and exciting faces to Dallas during last week's WNBA draft. But former Texas star Charli Collier and Finnish phenom Awak Kuier won't be repping the Wings' "Rebel Edition" jersey, one designed to honor the women who served in the Women Airforce Service Pilots (WASP) program during World War II.
⚾️Rangers: Pitcher Kyle Gibson threw eight scoreless innings and first baseman Nate Lowe hit a single in the bottom of the 10th, lifting the Rangers to a 1–0 win over the Baltimore Orioles yesterday. HYFR. Next up, the Rangers face a tough LA Angels team tonight at 9:38 p.m. ET/8:38 p.m. CT, their first AL West game of the season.