The GIST: ICYMI, the Bears didn't quite make it to the Super Bowl. So instead, we're bringing you a rundown of how the Bulls and Blackhawks are doing a month or so into their 2021 seasons.
February 08, 2021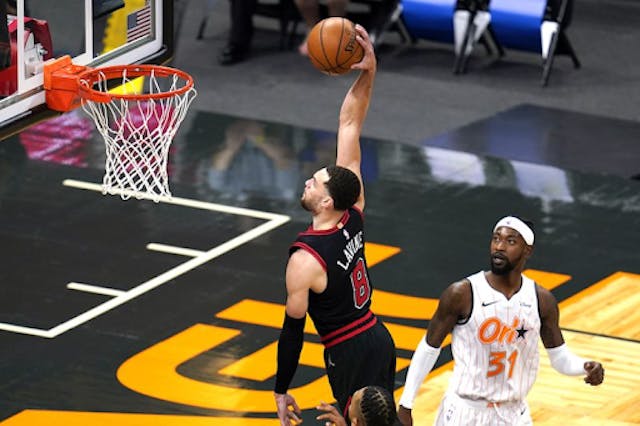 Source: John Raoux/AP Photo
🏀NBA: The Bulls beat the Orlando Magic on Saturday, capturing only their second win in their last seven games. Guard Zach LaVine scored 39 points (!!!), while rookie Patrick Williams recorded 16 following his on Friday. Did we mention he's only 19?
Though the Bulls continue to improve each time they take the court, we're not convinced they're playoff-bound this season. But, with young talent and great potential on this team, we're banking on the long game.
🏒NHL: Chicago beat the Dallas Stars 2–1 in overtime yesterday, securing their second back-to-back win this season. The 5-4-4 (wins, losses, overtime losses) Hawks are currently sitting in the middle of the Central Division and have done a fairly good job at staying close to some tough teams.
Still without captain Jonathan Toews, Chicago feels like a young group trying to find their groove. While we don't anticipate any Stanley Cups in Chi-town's immediate future, at the postseason.