The GIST: The Dodgers won two of three v. captivating games against the San Diego Padres and the alleged assault reports surrounding Ram Aaron Donald were incorrect. Phew. But, it's the disparities between women's and men's college sports that are taking center stage. Again.
April 19, 2021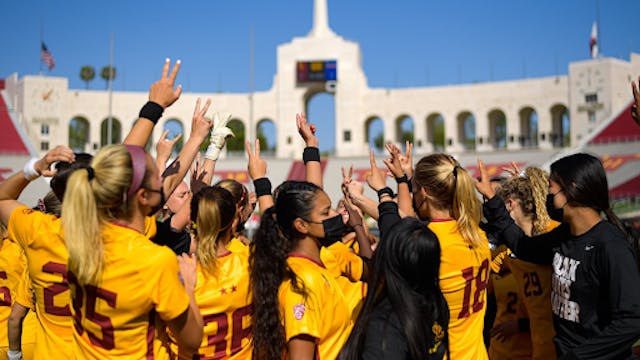 Source: John McGillen via USC Women's Soccer
⚽️Friday: In their final, regular season match before the NCAA Tournament, No. 19 USC and No. 3 UCLA women's soccer played to a 2–2 draw on Friday. Due to COVID-19 limitations, were allowed into the Coliseum.
🏈Saturday: The next day, the USC football team, who are not in season, played their Spring Showcase (a scrimmage amongst themselves) at the same exact outdoor venue in front of . The stark contrast in attendance policies seems fishy sexist.
⚾️The blowback: We're frustrated. And we're not the only ones. The USC baseball team standing in solidarity with the women's soccer team, asking for equal investment in women's and men's sports. We love to see the support, but why can't just do the right thing in the first place?