The GIST: While the temps in New York keep dropping, so do our teams' records. Today we're bringing you the quick-and-dirty of how our NBA and NHL teams are faring a month or so into their seasons.
February 08, 2021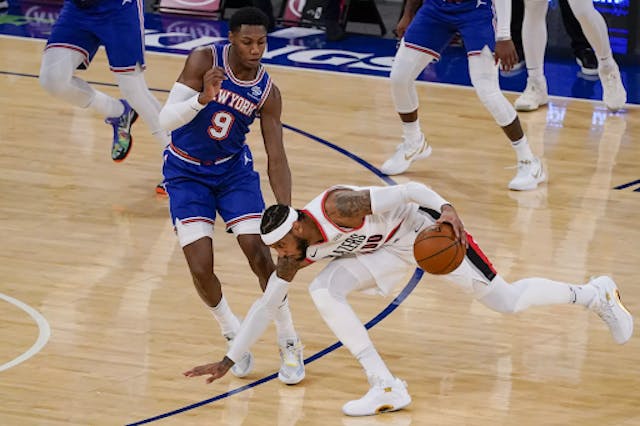 Source: Pool Photo/USA TODAY Sports
🏀Nets: The Nets notched their second straight loss, falling to the Philadelphia 76ers on Saturday. They sorely missed Kyrie Irving, who was out with a finger injury, and Kevin Durant, who was sidelined after being due to COVID-19 protocols on Friday.
This "dream team" will have to avoid roster woes in the future if they want to keep our dreams of an NBA Championship in New York alive.
Knicks: The Knicks took down the Portland Trail Blazers on Saturday in a game where everything just worked for New York. Six Knicks — including forward Julius Randle, forward RJ Barrett and point guard Immanuel Quickley — scored in the double-digits, showing how well they're working together to earn these wins.
🏒NHL: The Islanders beat the Pittsburgh Penguins 4–3 on Saturday to end their five-game losing streak, just in time to face the Rangers tonight at 7 p.m. ET. The Islanders are currently hovering around the bottom of the East Division, but we know not to count them .
Meanwhile, just like your ex, the also-average Rangers have brilliant moments...which are almost always followed up by some bad decisions. And it's not going to get easier for the Rangers: their next two opponents are No. 1 and No. 2 in the division, the Boston Bruins and the Philadelphia Flyers.