The GIST: An emerging star made her college basketball debut, an all-time wins record is about to be broken and a top-ranked team might've literally thrown away their shot at the College Football Playoff (CFP)…what a weekend in college sports.
December 14, 2020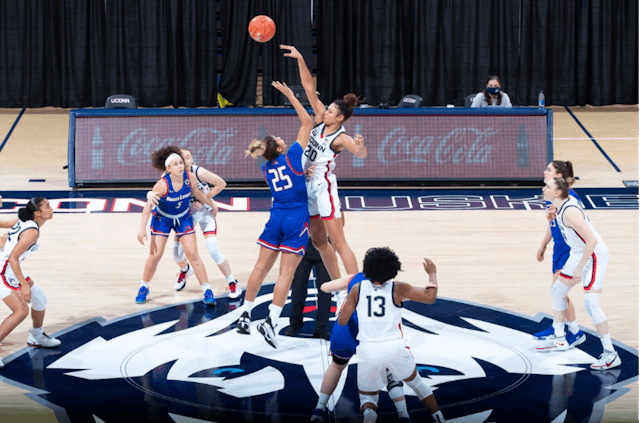 SOURCE: STEPHEN SLADE/UCONN ATHLETICS
Women's basketball: UConn women's basketball (WBB) finally played their season opener on Saturday, and it was well worth the wait, with the No. 3 Huskies defeating UMass Lowell, 79–23. No. 1 recruit Paige Bueckers (pronounced BECKERS) looked like a veteran in her college debut, posting 17 points and nine rebounds. Talk about a warm welcome.
Over on the West Coast, No. 1 Stanford defeated Cal 83–38, giving head coach Tara VanDerveer her 1,098th (!!!) career win and tying the legendary Pat Summitt for most wins by a WBB coach. VanDerveer and the Cardinal will look to make herstory vs. the Pacific Tigers tomorrow at 9 p.m. ET.
Football: In true 2020 fashion, the college football regular season is coming to a close in a completely bizarre way. Squaring off against a woeful LSU team, former No. 6 Florida seemed poised to ride a seven-game win streak into next weekend's SEC Championship.
But, with minutes remaining in the tied game, Florida cornerback Marco Wilson took LSU tight end Kole Taylor's shoe and...tossed it down the field. Wilson's head-scratching decision warranted a penalty, which allowed LSU to continue the drive and kick the game-winning field goal.
With the loss, now No. 11 Florida will likely miss out on a CFP berth. However, a win over No. 1 Alabama on championship Saturday should improve their playoff chances, so now might be a good time to add some Hamilton to the pre-game playlist.