The GIST: The College Football Playoff (CFP) bracket is officially set, with semifinal action scheduled for New Year's Day. 2021, we knew you wouldn't disappoint.
December 21, 2020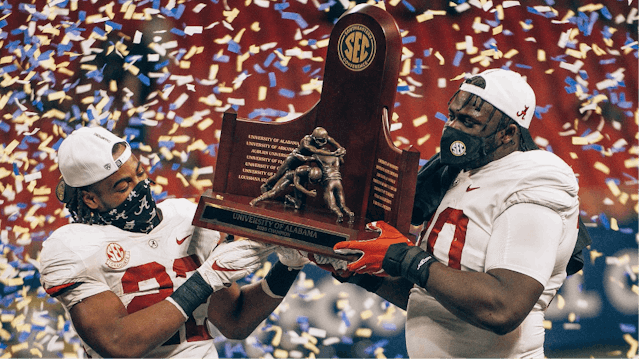 SOURCE: SEC/TWITTER
🏈First semifinal, the Rose Bowl: No. 1 Alabama won their 28th SEC Championship on Saturday, defeating No. 7 Florida in a surprisingly close 52–46 contest. 'Bama running back (RB) Najee Harris hurdled his way into the record books, setting an SEC Championship game record with five (!!!) touchdowns on the night.
The Rose Bowl matchup will feature the Tide vs. No. 4 Notre Dame who, thanks to their impressive 10-1 record, squeaked into the CFP despite a lopsided 34–10 loss to No. 2 Clemson in Saturday's ACC title game.
Second semifinal, the Sugar Bowl: The Sugar Bowl pits Clemson against No. 3 Ohio State. The Tigers convincingly claimed their sixth consecutive ACC Championship with their no-doubter win over Notre Dame on Saturday.
The Buckeyes posted a strong win of their own, defeating Northwestern 22–10 to hoist their fourth consecutive Big Ten title trophy. We can't wait for this star QB–studded showdown between Clemson's Trevor Lawrence and Ohio State's Justin Fields.
Who's out: Always a bridesmaid, never a bride. Despite a seven-game win streak over conference opponents, No. 5 Texas A&M missed out on a CFP berth and, unsurprisingly, were not too happy about it.
The CFP selection is always controversial, but canceled games and uneven schedules made things even more challenging this year. Have mercy, 2020.
🏀WBB: No. 3 UConn continues to dominate, passing the 100-point mark for the first time this season with a 106–59 rout of Xavier on Saturday. Human cheat code Rookie Paige Bueckers (pronounced BECKERS) had 19 points and nine assists in the win.
No. 1 Stanford also kept up their winning ways, defeating USC 80–60 on Saturday. The undefeated Cardinal face their first true test in No. 11 UCLA today at 3 p.m. ET. The perfect afternoon pick-me-up.