The GIST: Although the Seahawks are making moves that quarterback Russell Wilson approves of, it's the college squads we're paying the most attention to these days.
March 25, 2021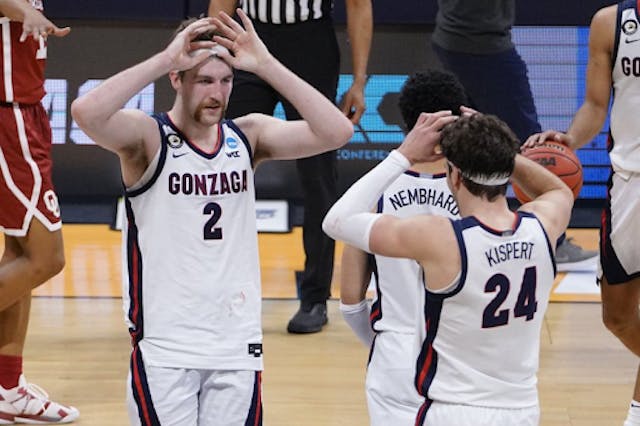 Source: AJ Mast/AP Photo
🎓🏀Gonzaga: While we bade a to Gonzaga women's basketball on Monday, the top-seeded Gonzaga men rolled through 8-seed Oklahoma in the second round. Next up for the 'Zags? Their sixth consecutive Sweet Sixteen appearance, against 5-seed Creighton on Sunday at 2:10 p.m. ET/11:10 a.m. PT.
Creighton's a decent three-point shooting team, but they're atrocious from the free throw line. It's hard to imagine the Bluejays knocking off the 'Zags.
🎓🏐Volleyball: No. 8 UW is back in action with a two-game slate against historically successful Stanford starting tomorrow at 8 p.m. ET/5 p.m. PT. Even though the Cardinal snagged three of the last four national titles, the dominant players on those teams have graduated. Look for the Dawgs — led by Ella May Powell and Samantha Drechsel (pronounced DREX-ULL) — to take advantage. Digging it.
Meanwhile, tomorrow's match for No. 13 Washington State has been canceled due to COVID-19 protocols, the third straight cancellation for the Cougs. Eek. Fingers crossed they'll be able to return against No. 12 Utah on Sunday at 1 p.m. ET/10 a.m. PT.