The GIST: Though we're giving "the gist" on our playoff teams — the Nets and Islanders — this morning, after their games are done, tune into the Liberty vs. Las Vegas Aces game tonight at 10 p.m. ET. Let's go, Libs!
June 17, 2021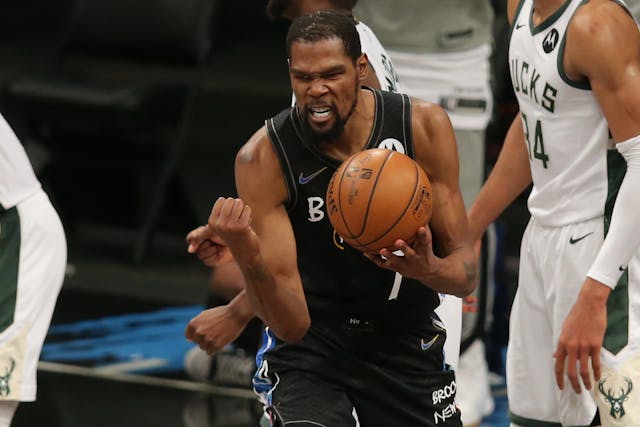 Source: Brad Penner/USA TODAY Sports
🏀Nets: After Kevin Durant's in the Nets' win over the Milwaukee Bucks on Tuesday, Brooklyn will look to end the Bucks' season in Game 6 tonight.
James Harden on Tuesday, but Kyrie Irving will miss a second game due to an ankle injury. At least he's getting lots of to lift his spirits. S'cute.
🏒Islanders: Over on the ice, the Tampa Bay Lightning evened up the series, defeating the Islanders in Game 2 on Tuesday. A positive? The Isles held their own, and Mathew Barzal scored his in the last six games.
Returning to the Coliseum 1-1 against the defending champs is v. impressive. As long as the Isles can keep the Bolts' lethal power plays at bay, they'll have a good shot to take Game 3 tonight at 8 p.m. ET.
⚾️Box scores: The Yankees beat the Toronto Blue Jays ; the Mets beat the Chicago Cubs .