Stars out with injuries may be to blame for Clippers game one loss.
June 21, 2021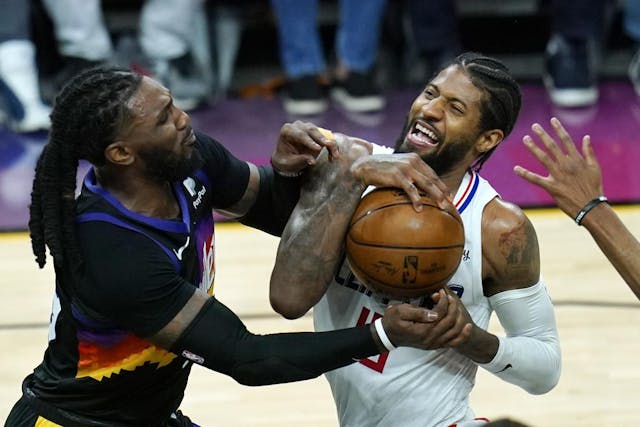 Source: Ross D. Franklin/AP Photo
🏀Clippers: Yesterday, less than 48 hours after dispatching the Utah Jazz in an emotional Game 6, the Clippers faltered at the finish of Game 1 in the Western Conference finals. Terance Mann cut the Clips' deficit to two with , but the Phoenix Suns rallied, taking it 120–114.
With stars Kawhi Leonard (sprained knee) and Clipper-turned-Sun Chris Paul (health and safety protocols) out, it was Paul George dueling Phoenix's Devin Booker. George scored 34 points, but Booker couldn't be tamed with a massive 40-point .
🏀Sparks: The Sparks couldn't close out either, falling to the NY Liberty 76–73 in yesterday's . LA was denied the opportunity to win not just , but , by Liberty Rebecca Allen in the waning seconds. Sigh.
⚾️MLB: Angel two-way sensation Shohei Ohtani keeps showing out. He announced Friday that he will participate in the on July 12th...before promptly smashing that night, on Saturday and then yesterday to tie for the MLB home run lead with 23. Somethin' special.
Meanwhile, the Dodgers almost embarrassed themselves, but with a series sweep, handing the Arizona Diamondbacks their 17th straight loss yesterday. Phew.