🏈

NFL Week 7 Woes: Antonio Brown, COVID-19

October 26, 2020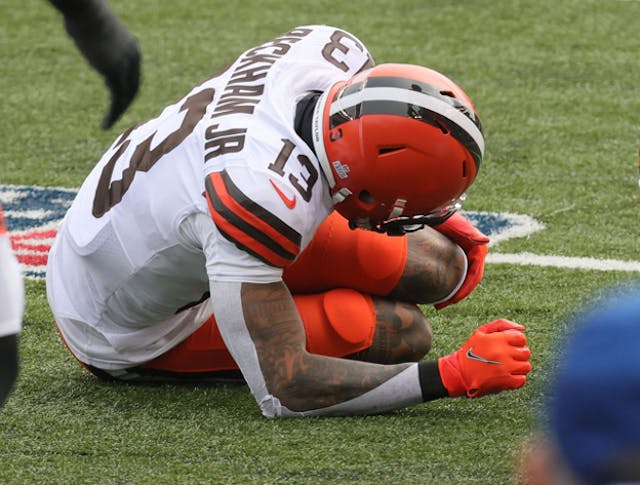 SOURCE: JOHN KUNTZ/CLEVELAND.COM
The GIST: If 2020 were an NFL week, Week 7 would be it.
Care to explain?: To start, Antonio Brown is about to return to the NFL. We can only scratch the surface on his long list of off-field drama, but suffice it to say, he's had a troublesome few years. His history — which includes an ongoing sexual assault lawsuit — apparently isn't bad enough for the Tampa Bay Buccaneers, however.
The Bucs will reportedly sign AB to a one-year, max $2.5 million deal that would reunite him with his old New England Patriots teammate, quarterback (QB) Tom Brady. Brown will be eligible to start for the Bucs in Week 9, once he's done serving the remainder of his eight-game suspension for violating the NFL's Personal Conduct Policy. Ugh.
What else?: COVID-19 continues to rear its ugly head. Jacksonville Jaguars running back (RB) Ryquell Armstead is out for the rest of the season due to COVID-19 complications. The second-year RB has been hospitalized twice since his diagnosis in August. Just awful.
Four Buffalo Bills tight ends (TE) had to sit out during yesterday's win after TE Dawson Knox tested positive, and the Las Vegas Raiders had to send their offensive line home from practice on Wednesday after tackle Trent Brown tested positive. Meanwhile the Tennessee Titans have been fined $350,000 for COVID-19 protocol violations.
Wow. Any on-field news?: You bet. Here are a few of Week 7's lowlights from the gridiron:
Dallas Cowboys QB Andy Dalton suffered a terrible head injury following an illegal helmet-to-helmet hit in a 25–3 loss to the Washington Football Team. Rattling.
The New England Patriots' 33–6 loss to the San Francisco 49ers saw three interceptions from QB Cam Newton and was the worst home defeat of Bill Belichick's Pats coaching career.
And king of the one-handed catch Odell Beckham Jr. suffered a nasty knee injury during his Cleveland Browns' close win over the Cincinnati Bengals. We're ready for Week 8 now, please.
🏈

Washington Football Team Earn Win Over Cowboys

October 26, 2020
SOURCE: EMILEE FAILS/WASHINGTON FOOTBALL TEAM
The GIST: The Washington Football Team (WFT) grabbed a much-needed victory over the shorthanded Dallas Cowboys yesterday to end a five-game losing streak. A win's a win!
Finally!: You're telling us! The WFT picked up their second win of the season with a dominant 25–3 win against their NFC East rival. The defense was firing on all cylinders, recording six sacks, their highest tally since the season opener.
The offense was clicking, too. RB Antonio Gibson had 128 rushing yards and paid homage to LeBron James with his touchdown celebration, while QB Kyle Allen showed off his arm by going deep to wide receiver Terry McLaurin. We love to see it.
Any other good news?: Yes! Head coach Ron Rivera finishes the last of his cancer treatments today. Rivera said, "what I've been told is it's headed in the right direction." So good to hear.
Who are they playing next week?: Actually, the WFT have a Week 8 bye. They return on November 8th for a rematch against the NY Giants...and so will some fans in the stands.
FedEx Field will house around 3,000 fans, under the 10% capacity threshold set by the Maryland governor. Stay safe and mask up, D.C.!
⚾

Dodgers One Win Away From World Series Title

October 26, 2020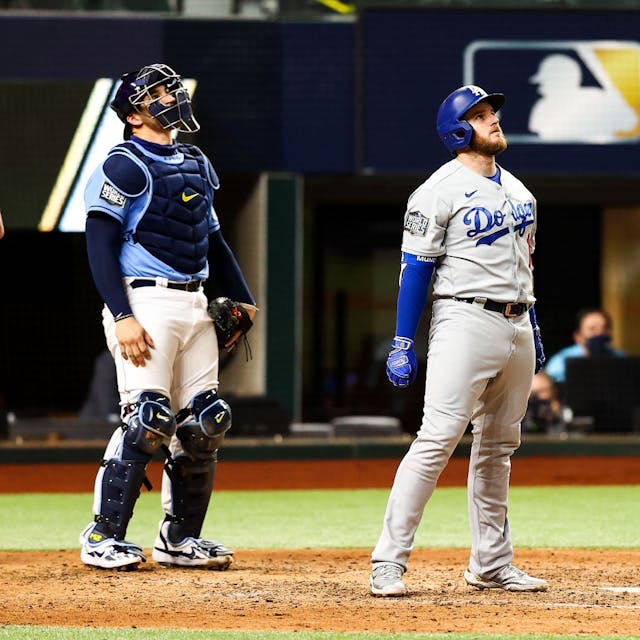 SOURCE: MLB/TWITTER
The GIST: The LA Dodgers are just one game away from winning the World Series. But based on what we've seen so far, we're not sure the Tampa Bay Rays will let them off that easy.
Tell me everything!: Down 2-1 in baseball's biggest series, the Rays ended Saturday night's Game 4 with a stunning walk-off run from Brett Phillips to win 8–7 and even up the series. But in keeping with the back and forth wins of the series so far, Game 5 was all Dodgers.
The SoCal boys started with a 3–0 lead and never gave it up, even after a third inning push from the Rays. Pitcher Clayton Kershaw was not only instrumental in the 4–2 win, but he had himself a night, passing Justin Verlander to become the MLB's leader in postseason strikeouts with 207. Sheesh.
What now?: Tomorrow night's Game 6 could really go either way. But it's not the only matchup we're looking forward to: the race to the most homers in a single postseason is a nail-biter, too.
Rays outfielder Randy Arozarena and Dodgers shortstop Corey Seager have been trading the top spot over the past few games, with Arozarena currently leading the all-time list with nine. Tune in to Game 6 at 8:08 p.m. ET tomorrow to see if Seager can take back the lead — and maybe win the World Series, too.
🏈

Bears Face Rams on Monday Night Football

October 26, 2020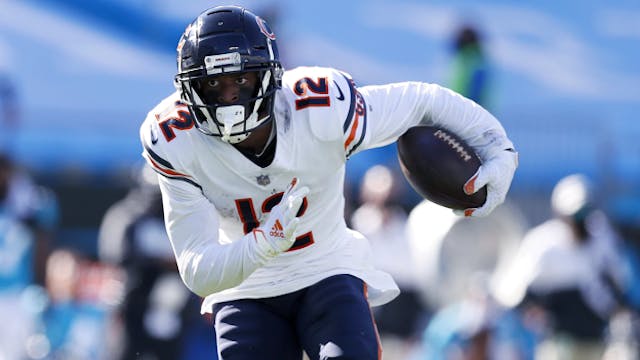 SOURCE: CHICAGOBEARS.COM
The GIST: Ladies and gentlemen, it's Monday Night! The 5-1 Bears are taking on the 4-2 LA Rams in tonight's Monday Night Football matchup at 8:15 p.m. ET.
The sides: The Rams are 2-0 at home this season and will be looking forward to playing host after an upset loss to the San Francisco 49ers on the road last week. But here's the thing: our Bears are 3-0 on the road, so the Rams shouldn't be too comfortable.
Both teams are entering Week 7 with something to prove: the Bears are still trying to earn the respect of the league despite winning five of six games, while the Rams need to clean up their sloppy play to show they are truly a playoff-worthy team.
On defense: Both squads have dominating defenses, but unfortunately da Bears might be at a disadvantage tonight as key linebacker Khalil Mack is questionable with a back injury. Without Mack, who has 4.5 sacks on the season so far, Rams QB Jared Goff might be able to breathe a little easier, which is definitely dangerous.
On offense: The Bears offense continues to be the weak link. While QB Nick Foles is 3-1 since taking over for Mitch Trubisky, he's pretty inaccurate and inconsistent, common demons an experienced QB shouldn't still be fighting. Thankfully he's got talented receivers like Allen Robinson to make up for his shortcomings. Time for Foles to Bear TF Down.
⚾
🏈
Dodgers Look to Take World Series Crown with Win in Game 6
October 26, 2020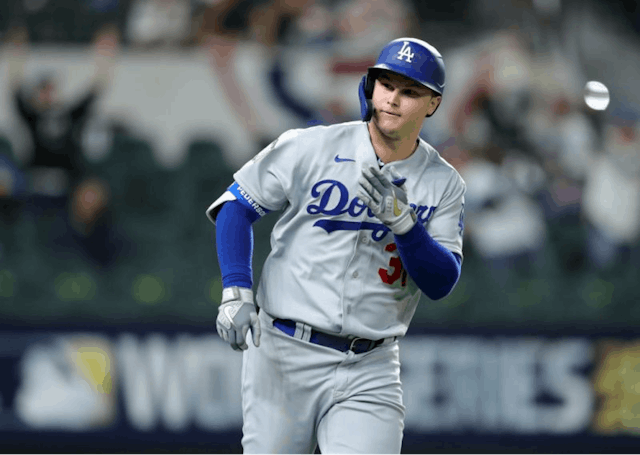 The GIST: The Dodgers earned a tense Game 5 victory to re-take the lead in the World Series! And with the Chargers grabbing a much-needed win, the Rams hope to follow suit with a triumph of their own tonight. LA's shining bright.
⚾️Roaring back: The Dodgers put Game 4's gaffes behind them by securing a 4–2 Game 5 victory over the Tampa Bay Rays. First baseman Max Muncy came through with a key home run to give the Dodgers a little breathing room. And after being designated hitter (DH) in Saturday's comedy tragedy of errors, Cody Bellinger was a steady presence back in center field yesterday. No ninth-inning collapse this time. Whew.
The Dodgers can win it all tomorrow night in Game 6 at 8:08 p.m. ET/5:08 p.m. PT. Not, not nervous.
🏈Showing out: The Chargers quashed Minshew Mania and the Jacksonville Jaguars with a 39–29 win. Rookie QB Justin Herbert continued to impress in his first NFL win, throwing three touchdowns and rushing for one. But more importantly, the Chargers snapped a four-game losing streak and managed to come back, even after blowing another double-digit lead.
As for our other LA football team, the Rams look to rebound from last week's loss at 8:15 p.m. ET/5:15 p.m. PT tonight on Monday Night Football against the Chicago Bears. TIme to bounce back.