🏒

PWHPA: Billie Jean King in ownership talks

May 27, 2022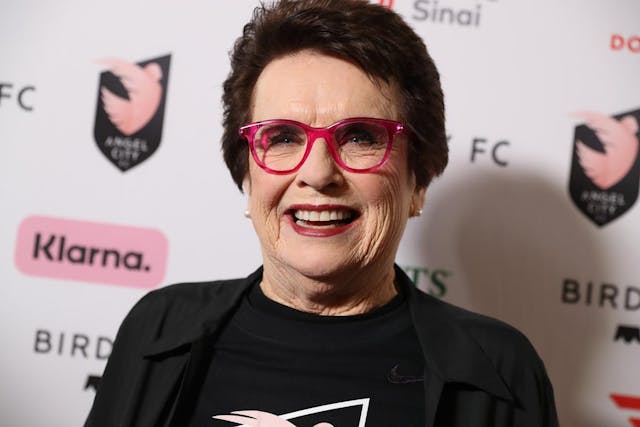 SOURCE: MEG OLIPHANT/GETTY IMAGES
The GIST: The PWHPA's goal to create a sustainable cross-border pro women's hockey league is coming to fruition. On Tuesday, Billie Jean King Enterprises and The Mark Walter Group inked a letter of intent with the association, officially entering a formal relationship.
The PWHPA has also been working with Deloitte and Scotiabank to launch the new league in January. Talk about a stacked roster.
The details: Working as unnamed consultants for the past year, professional services giant Deloitte and Canadian financial services company Scotiabank have been helping the PWHPA build a business plan for the new league.
Part of that plan? Booking major investors, like gender equity trailblazer King and LA Sparks and new Chelsea FC owner Walter. Their consortium will be co-captained by BJK Enterprises CEO Ilana Kloss and former WTA chairman and CEO and Pac-12 commissioner Larry Scott.
Zooming out: With backing like this, the league aims to be a rare example in women's sports — one that launches ambitiously, with 32 games, six teams and an average salary of $55K, rather than meagerly.
🏒

NHL conference semifinals: Blues come back in Game 5

May 27, 2022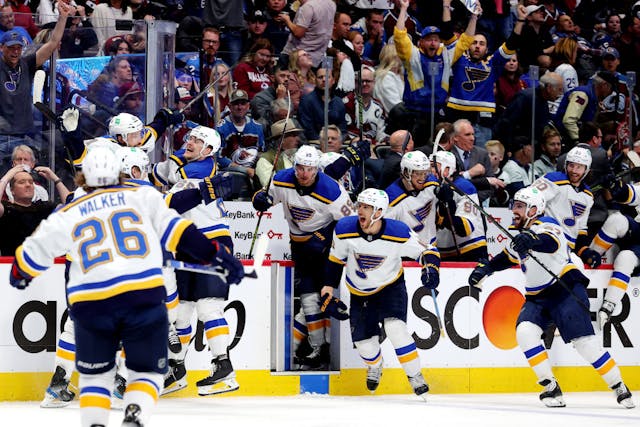 SOURCE: MICHAEL MARTIN/NHLI VIA GETTY IMAGES
The GIST: Two down, two to go! The Conference Finals may be halfway set, but there's still a lot of action ahead. Who'll be forced to hit the golf course next?
Eastern Conference: As the Tampa Bay Lightning rest up for the Conference Finals, the Carolina Hurricanes are one game closer to joining them after defeating the NY Rangers 3–1 last night — with Teuvo Teräväinen coming in clutch on the power play. Next: Game 6 tomorrow at 8 p.m. in New York.
Western Conference: Stop drilling, they've struck oil! The Edmonton Oilers claimed a 4–1 victory — thanks to Connor McDavid's overtime game-winner — over the Calgary Flames last night to win the Battle of Alberta and advance to the Conference Finals for the first time since 2006. Good luck extinguishing those tears, Flames Fans.
In the other conference semi, the Colorado Avalanche are looking to finally eliminate the St. Louis Blues after the Avs allowed St. Louis to knock out a wild 5–4 overtime comeback win on Wednesday. The Avs will look to get 'er done in tonight's Game 6 matchup at 8 p.m. ET. Pitter patter.
🏒

NHL conference semifinals: Bolts take the Battle of Florida

May 25, 2022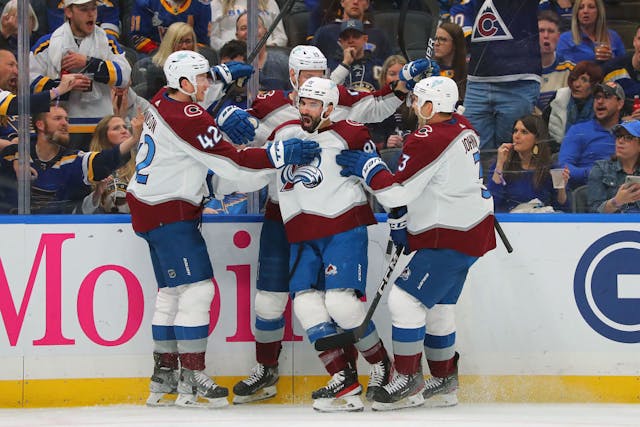 SOURCE: DILIP VISHWANAT/GETTY IMAGES
🏒

NHL Conference Semifinals: Desperate times

May 23, 2022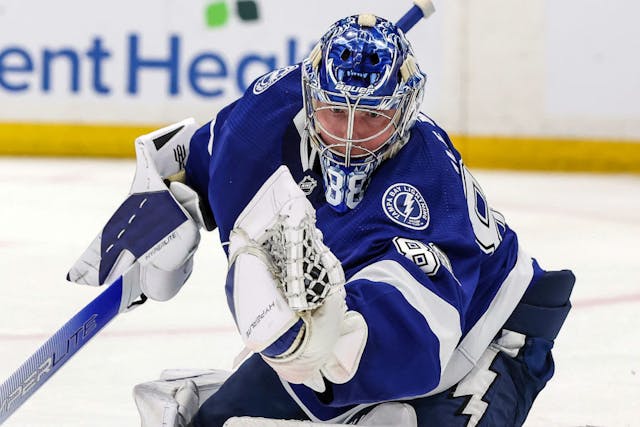 MIKE CARLSON/GETTY IMAGES
The GIST: While some teams are right where they want to be, others are calling for desperate measures. Regardless, the intensity is only growing as Round 2 of the playoffs heads into elimination territory.
Eastern Conference: The fight of Florida is turning out to be, well, not much of a fight at all. Steven Stamkos and the Tampa Bay Lightning powered a 5–1 win over the Florida Panthers yesterday, securing a 3-0 series chokehold in the process. The defending champs will be dusting off their Nimbus 2000s in hopes of a sweep tonight at 7 p.m. ET.
In the other semi, the NY Rangers topped the Carolina Hurricanes 3–1 yesterday, successfully closing their series deficit to 2-1. With Rangers' netminder Igor Shesterkin playing lights out in front of the Madison Square Garden home crowd, the 'Canes will need to try something new tomorrow night at 7 p.m. ET.
Western Conference: In typical Battle of Alberta fashion, the rivalry between the Edmonton Oilers and Calgary Flames remains boiling hot. The Oilers have gained a 2-1 series lead after last night's 4–1 victory, propelled by Evander Kane's natural hat trick. But something tells us this series will be a back and forth affair. See for yourself tomorrow at 9:30 p.m. ET.
Sprinkling in some postseason grit are the Colorado Avalanche (leading 2-1) and St. Louis Blues. With Blues' goaltender Jordan Binnington out for the remainder of the series (lower body), and the Avs losing defenseman Samuel Girard to a broken sternum, both teams are ready to rumble in tonight's 9:30 p.m. ET Game 4.
🏒

NHL playoffs: Lightning's Colton scores last-second game winner

May 20, 2022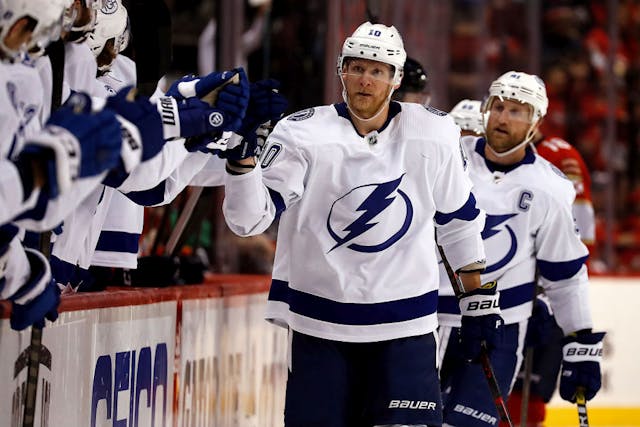 SOURCE: ELIOT J. SCHECHTER/NHLI VIA GETTY IMAGES
The GIST: As the Game 2s of the second round wrap up tonight, it's clear these eight remaining teams are ready to battle as we head into a Game-3-filled weekend. Are you ready for it?
Last night's games: With a gutsy game-winning goal from Ross Colton in the dying seconds, the Tampa Bay Lightning snagged a pivotal 2–1 Game 2 victory over the Florida Panthers. Up 2-0 in the series, the Lightning will head home to Tampa for Sunday's 1:30 p.m. ET Game 3. Can the Lightning strike thrice?
Out west, the St. Louis Blues managed to defeat the Colorado Avalanche 4–1, to leave the Mile High City fans singing, well, the blues. With the series split at one game apiece, St. Louis will attempt to draw on its home crowd energy to earn the W in tomorrow's Game 3 at 8 p.m. ET.
Tonight's Game 2s: After notching a 2–1 overtime win over the NY Rangers on Wednesday, the Carolina Hurricanes will aim to gain a 2-0 series lead on home ice tonight at 8 p.m. ET. With Hurricanes goalie Antti Raanta standing on his head, NY forwards Chris Kreider and Artemi Panarin have their jobs cut out for them.