NCAA Tournament action in softball, lacrosse, and tennis
May 25, 2021
The GIST: The catch of the year might've happened at the high school level this weekend, but college championship action still had us leaping to our feet.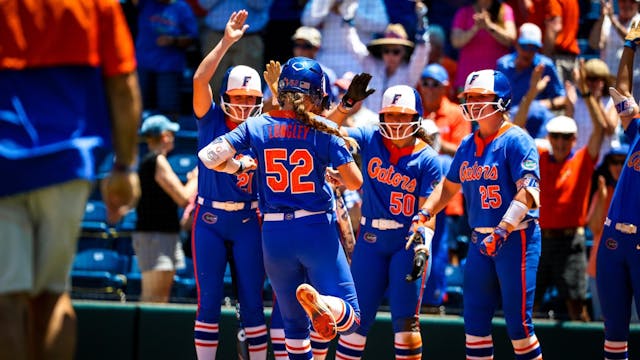 Source: Gators Softball/Twitter
🥎Softball: Two no-hitters, and many, many home runs later, we're already down to the My Super Sweet 16. After a wild weekend of regional play, 16 of 64 teams will head to this weekend's best-of-three Super Regionals with a trip to the College World Series on the line. Follow the full schedule and get your ready.
🥍Lacrosse: There were a handful of high-scoring games during Saturday's quarterfinals, but it'll be an all-top-seed affair at Friday's women's lacrosse semifinals. Undefeated No. 1 North Carolina will face No. 4 Boston College while another unbeaten squad — No. 2 Northwestern — and No. 3 Syracuse will battle for a spot in Sunday's finals. Check out the full bracket .
🎾Tennis: Thanks to Lulu Sun's victory, No. 2 Texas notched their third women's tennis team title in program history with a dramatic 4–3 win over No. 5 Pepperdine. Their prize? More tennis! Singles and doubles action continues throughout the week ahead of Friday's championships. We love to see it.